The State of the International Traveler Study™
Order Your 2017 Custom Report Today.
Destination Analysts' annual tracking study, The State of the International Traveler™ tracks key destination performance metrics in 14 major feeder markers for over 60 U.S. destinations. Custom reports are available for destinations including:
Alaska
Albuquerque, New Mexico
Anaheim/Disneyland, California
Anchorage, Alaska
Atlanta, Georgia
Atlantic City, New Jersey
Austin, Texas
Baltimore, Maryland
Boston, Massachusetts
Branson, Missouri
Charleston, South Carolina
Charlottesville, Virginia
Chicago, Illinois
Dallas, Texas
Denver, Colorado
Detroit, Michigan
Hawaii
Hilton Head Island, South Carolina
Houston, Texas
Jacksonville, Florida
Kansas City, Missouri
Lake Tahoe area (California/Nevada)

Las Vegas, Nevada
Los Angeles, California
Louisville, Kentucky
Memphis, Tennessee
Miami, Florida
Minneapolis-St. Paul, Minnesota
Montana
Monterey County, California
Napa Valley, California
Nashville, Tennessee
New Orleans, Louisiana
New York City, New York
Newport Beach, California
Niagara Falls, New York
North Dakota
Oklahoma City, Oklahoma
Orlando, Florida
Outer Banks, North Carolina
Philadelphia, Pennsylvania
Phoenix, Arizona
Pittsburgh, Pennsylvania
Portland, Oregon

Rapid City, Mt. Rushmore, Badlands area
Reno, Nevada
Rural Nevada (outside Reno or Las Vegas)
Salt Lake City, Utah
San Antonio, Texas
San Diego, California
San Francisco, California
Santa Barbara County, California
Sarasota, Florida
Savannah, Georgia
Seattle, Washington
Sonoma County, California
St. Augustine, Florida
St. Louis, Missouri
St. Petersburg/Clearwater, Florida
Tampa, Florida
Texas (other areas of the state)
The Florida Gulf Coast
Washington, DC
Wyoming
The State of the International Traveler Study ™
Destination Analysts' annual study, The State of the International Traveler, offers an in depth look at internationally oriented leisure travelers in the top 14 U.S. feeder markets. Developed specifically for the needs of Destination Marketing Organizations, this groundbreaking international travel research delves into the behaviors and perceptions of international travelers, including how international travelers can be reached and influenced, the media they consume, the types of experiences, lodging and dining they desire in the U.S., anticipated spending in the U.S. (including on types of items) and more.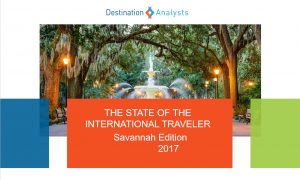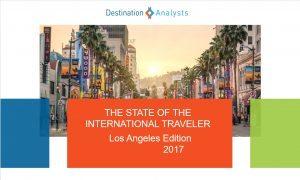 Destination Familiarity
Destination Appeal
Past Visitation
Likelihood to Visit
Bragging Rights
Exposure to Advertising & Promotion
Report can be customized for your destination. Over 800 fully completed surveys were collected in each country below from a random sample of internationally-oriented leisure travelers.
Argentina
Australia
Brazil
Canada
China
France
Germany
India
Italy
Japan
Mexico
The Netherlands
South Korea
United Kingdom
Full Report (with complete analysis of destination-specific questions for your destination and competitive destinations):
Get the complete report with detail for all questions in the survey and custom analysis of destination-specific questions