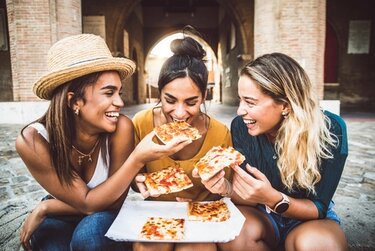 Even with tighter budgets, Americans don't appear to be sacrificing their travel. Instead, many anticipate spending differently on their trips, making compromises on food and dining experiences and shopping purchases over shortening trip days or even scrimping on lodging.
IMPORTANT: These findings are brought to you from our independent research, which is not sponsored, conducted or influenced by any advertising or marketing agency. The key findings presented below represent data from over 4,000 American travelers collected in June 2023.

Financial Outlook Improves—Travel Spending Sentiment is Cautiously Optimistic.
Expectations that the U.S. will enter an economic recession in the next six months are down -6.2 percentage points from May. Similarly, the share of American travelers who are being careful with their personal finances due to concerns about an impending recession also came down slightly to 60.5 percent, compared to 62.6 percent last month.
Perceptions of the travel costs being too expensive have abated after two months of consecutive increases, with the cost of gasoline as a deterrent for travel dropping from 37.0 percent in May to 32.8 percent this month, and the cost of airfare as a deterrent dropping from 28.9 percent to 25.2 percent. In fact, the percentage of those who said that high travel prices have kept them from traveling in the past month also saw its first decline since March, dropping from a 2023-high of 46.7 percent in May to 43.9 percent in June.
This lessening of tension around travel costs is also reflective in travel spending sentiment, with the share of American travelers who say that now is a good or very good time to spend on leisure traveler recovering to 30.2 percent after dropping to 27.5 percent in May (which was a 2023 low). In more positive news, expectations for higher leisure travel spending in the next twelve months rebounded slightly in June (+3 points from May).
However, the impact of these positive indicators on Americans' expected leisure travel spending in the next 12 months is tempered, with expected travel budgets for the next year currently averaging at $3,787. While an increase compared to May's ten-month low of $3,719, it still remains well below the $4,318 average of the first four months of 2023.
Even with the ups and downs of recent concerns around a potential recession and high travel costs, Americans' commitment to travel as a budget priority has continued to hold steady, coming in at 54.5 percent. Also, the average number of leisure trips planned for the next year—3.4–remains at 3-year high levels. Read more
https://www.destinationanalysts.com/wp-content/uploads/2023/07/rsz_shutterstock_2151896221.jpg
251
375
Destination Analysts
https://www.destinationanalysts.com/wp-content/uploads/2023/02/rsz_1da_logo_header.png
Destination Analysts
2023-07-11 16:33:01
2023-07-11 17:11:00
The State of the American Traveler in July 2023 — What Trip Spending Will be Compromised to Keep Traveling