If you've worked with us, you know that the Destination Analysts team is passionately devoted to helping destination marketers understand the modern traveler. For nearly a decade, every six months we've produced our flagship domestic study, The State of the American Traveler TM , and have provided it on a complimentary basis to our industry. This research is been widely used and helps our team shape our thinking around the ever-emerging industry topics of the day. With this rapid pace of change in the industry, our sense now is that conducting this study every six months is no longer enough. There are just too many questions floating around and too few answers available to continue on in this format. So, we're changing course. We'll still be partnering with our friends at Miles, but will now be conducting the survey every quarter, greatly expanding its potential.
With this good news looking forward, we present to you the first of our quarterly studies, the Destinations Edition. If you'd like to review the summary report, you can download it here. Of course, if you have questions or need extra detail, just call us. Additionally, we also gave a webinar earlier this week in which our President & CEO digs deeper into the edition's findings. We think you'll enjoy it.
The State of the American TravelerTM Webinar, March 10th, 2016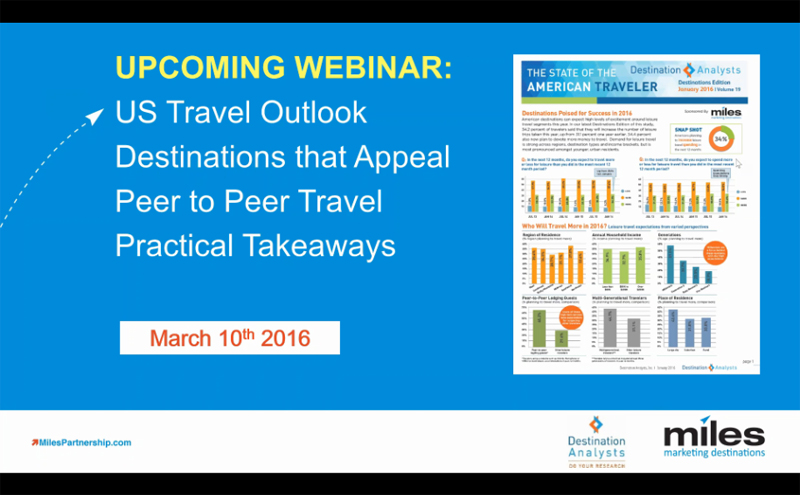 If you have questions you would like to have us explore in the next edition, send them to us!
https://www.destinationanalysts.com/wp-content/uploads/2014/10/Logo-For-Blog-Posts.jpg
168
145
Destination Analysts
https://www.destinationanalysts.com/wp-content/uploads/2023/02/rsz_1da_logo_header.png
Destination Analysts
2016-03-11 19:56:05
2016-03-11 20:11:11
The State of the American Traveler, Destinations Edition