Globetrotting! The Latest Profile of the Internationally Traveling American
Summer is upon us, and you may have seen some of the headlines around the expected surge of American travelers heading to Europe for vacation. NPR reported that the U.S. State Department is seeing record numbers of passport applications, and Allianz Partners anticipates that this summer will see a 55 percent increase compared to last year's season in the number of Americans traveling to Europe, with Italian destinations at the top of the list of European destinations. Considering that, according to Reuters, airlines were already seeing a boom in online searches for transatlantic flights to Europe in early spring, it's clear that American travelers can't get enough of overseas destinations in 2023.  
So, who exactly are these Americans traveling abroad in droves this year? The Destination Analysts team got curious and decided to delve into a profile of U.S. travelers who say they are very likely to travel outside of the U.S. in the next 12 months—what we will refer to as "American International Travelers." What we found was a mix of the expected and the unexpected.
Starting with the expected, American International Travelers are significantly wealthier than the average American traveler. In fact, this past month, they reported an average household income of $109,910 compared to the $82,872 reported by total American travelers. On average, they have 20.2 days available for vacation in the next year, 4.3 days more than the typical American traveler. Furthermore, 29.8 percent reported to having more than 30 days available for leisure travel. They are more likely to be married (+12.2pp), have completed a graduate degree (+12.8pp), and be employed full-time (+6.0pp), indicating a higher level of overall security in terms of finances and lifestyle.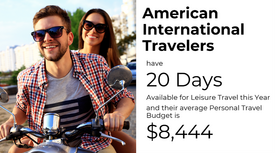 Financially, their optimism about their personal finances runs high. American International Travelers are +12.3 percentage points more likely than the average American traveler to say they are better off financially now compared to a year ago (41.4% vs. 29.1%), and they also have a sunnier prediction about their household finances one year from now, with 51.4 percent saying they expect to be better off (vs. 46.3% of the average American traveler).
This optimism spills over into their attitudes toward leisure travel spending; over half (55.6%) say that now is a good time to spend on travel, while only 30.7 percent of total American travelers felt the same (Fig. 1). Moreover, they are planning to spend more than double the amount reported by total American travelers when it comes to leisure travel in the next year ($8,444 vs. $4,082). They also are more inclined to spend more on travel compared to a year ago, with more than half (53.2%) expecting to spend more on leisure travel this year (vs. 33.2% of total American travelers).

This financial optimism also means that high travel prices are less of a deterrent to them, and fears of a recession are less likely to impact their spending habits. Despite their expectations for a U.S. economic recession in the next six months matching those of the general traveler population, only half (51.7%) said they are being careful with their money as a result (-8.1pp compared to total American travelers). In fact, only 37.4 percent said that prices have kept them from traveling in the past month, compared to 45.3 percent of total American travelers.
So, where is all this financial optimism and wherewithal taking them? When asked which foreign destinations they most want to visit in the next 12 months, Italy was the top written-in response, unsurprisingly, followed by Mexico, the United Kingdom, Canada, and France. In terms of when they are planning to travel for the rest of 2023, while the largest share of American International Travelers have leisure trips planned for June and July, they are also more likely to have trips planned for the shoulder seasons compared to the average American traveler, with over one-third reporting a trip planned for October (34.4%), and one-fourth reporting a trip in November (26.5%) and/or December (25.1%) (Fig. 2).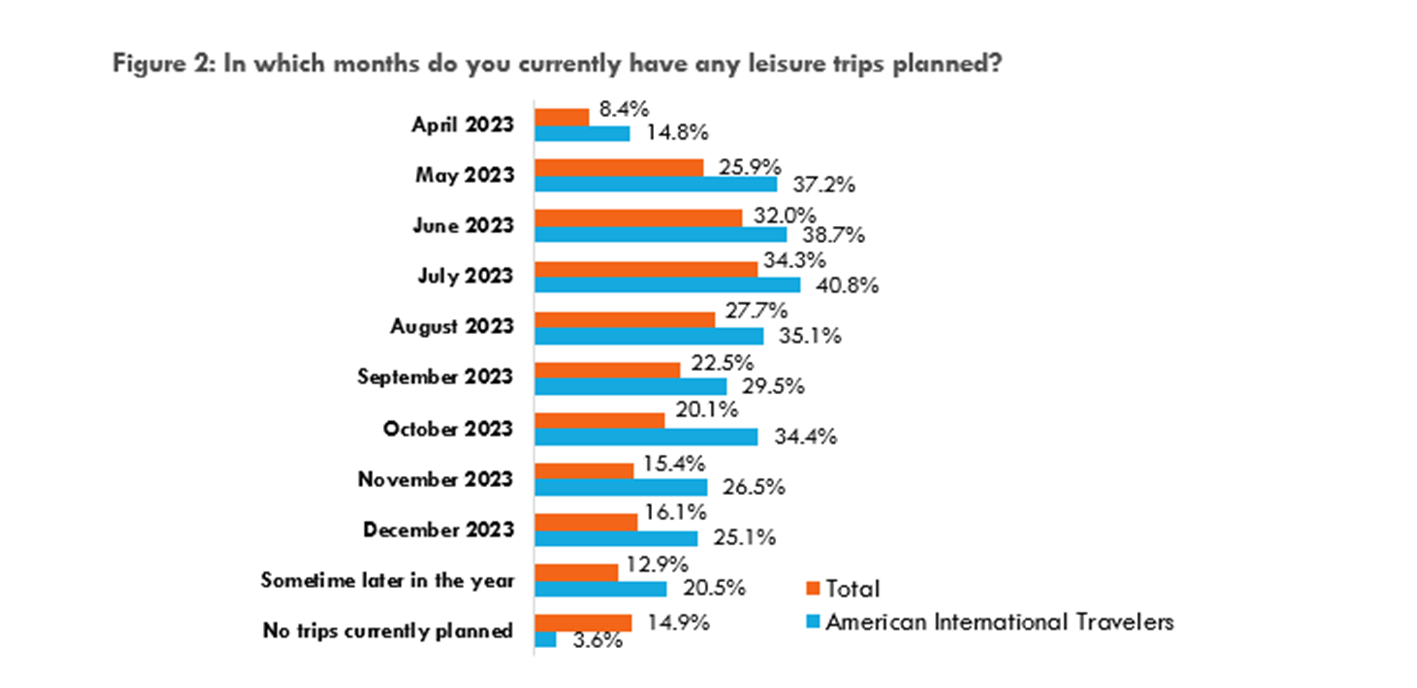 This aligns with psychographic data for American International Travelers, who are more likely to say they like to travel off the beaten path (+10.1pp), and they prefer destinations that are not necessarily popular with other people (+8.1pp), indicating a general desire to avoid heaving crowds of other tourists.
Given their overall financial health, perhaps it is unsurprising that over half (53.2%) of American International Travelers are likely to stay in a five-star luxury hotel property in the next 12 months (+22.6pp compared to total American travelers) (Fig. 3). Similarly, they say it is important to have at least one luxury travel experience on a leisure trip (63.1% vs. 48.5% of total American travelers.)

What is surprising, however, is that despite this inclination towards luxury and their openness to spending more on leisure travel in the coming year, Americans International Travelers love a good travel deal and place a lot of value on travel reward programs. Two-thirds agree that searching for travel discounts and deals is fun (64.9% vs. 51.1%) (Fig. 4). They also are much more likely to agree that they take pride in finding a great travel deal (81.7% vs. 69.6%). Nearly three-fourths (73.9%) say that travel reward programs are important or extremely important to how they plan their leisure travels, +22.5pp more than the average American traveler. So, while they are generally more open to purchasing leisure travel than most American travelers, travel deals and opportunities to use their travel reward points can be a key factor in where American International Travelers ultimately decide to go.

For further insights into American International travelers, such as what travel reward programs they're using, what media they are consuming, what travel planning resources they use, and other destinations they are interested in visiting, please reach out to our research team at info@destinationanalysts.com to purchase your report ($2,500).
To stay up-to-date on traveler trends, sign-up to receive monthly updates and Key Things to Know from our State of the American Traveler Study here.
Have a travel-related question idea or topic you would like to suggest we study? Let us know!
We can help you with the insights your tourism strategy needs, from audience analysis to brand health to economic impact. Please check out our full set of market research and consulting services here.
https://www.destinationanalysts.com/wp-content/uploads/2023/06/shutterstock_647127712.jpg
167
250
Destination Analysts
https://www.destinationanalysts.com/wp-content/uploads/2023/02/rsz_1da_logo_header.png
Destination Analysts
2023-06-08 22:44:19
2023-07-07 17:55:38
Globetrotting! The Latest Profile of the Internationally Traveling American