Now trending on Instagram, YouTube, Pinterest and beyond, digital influencers are moving the needle for destinations of all types. Our latest research sheds some light on the extent of their impact.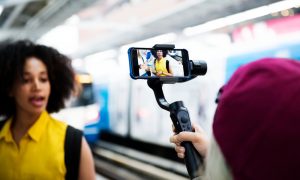 Influencer marketing has quickly grown into a big business over the past few years, and savvy destinations around the world are already working to incorporate it into their marketing mix. However, there seems to be a general lack of understanding about this relatively new approach to destination promotion. Whether the goal is to create "buzz" around a destination's brand, to establish credibility in the marketplace, or simply to generate direct bookings, many of our clients have admitted that they feel like they're flying in the dark. With this in mind, we added a few relevant questions to this month's The State of the American Traveler survey to take a basic measure of the market. Specifically, we sought to learn how many leisure travelers are using content created by these so-called digital influencers, which traveler segments are being influenced, and, perhaps most critically, what they're using this content for.
But this isn't an easy nut to crack. A major hurdle faced in asking travelers about the impact that digital influencers have had on their travels is a definitional one. What exactly is a digital influencer? In marketing circles, we at least have an idea of what the term encompasses, but of course, it would be poor survey form to expect all travelers to be familiar with the concept. So, we defined it for them:
DEFINITION: A "DIGITAL INFLUENCER" is a person who has established credibility online and who shares their opinions and experiences with a large audience. This can include bloggers, travel writers, YouTube personalities and/or persons with large followings on social media (Twitter, Instagram, Facebook, Pinterest, etc.).
For those interested in entering the game of influencer marketing, the survey results look promising. Nearly one in five American leisure travelers (18.3%) reported that they have indeed used the opinions of a digital influencer in their travel planning sometime in the past year. Furthermore, the generational differences among respondents is striking. Over one-third (36.8%) of Millennial travelers say they have used content from a digital influencer to help plan a leisure trip in the past year. For now, it seems that the older generations are somewhat less susceptible to being 'influenced' in this way – only about one in five Gen Xers (19.9%), and fewer than one in ten Baby Boomers (8.0%) reported using the opinions of a digital influencer to help plan their travel in the past year.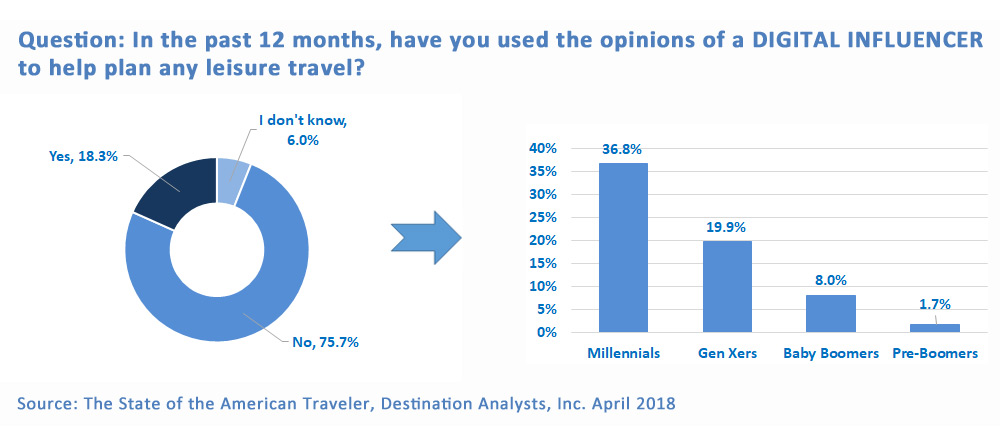 And what types of decisions are they influencing?  The answer will be music to the DMO marketer's ears. (Drumroll please.) When asked what travel planning tasks they had used digital influencer-generated content for, survey respondents most commonly said it was to help select the destinations they would visit. More than half of those influenced in any way (55.1%) said that in the past year, they had made at least one destination decision based on digital influencer content. The typical respondent also indicated that several of their other travel-related decisions were impacted, too – on average, a total of 3.6 decisions (see chart below).  The decisions affected range from the restaurants they choose to dine at in a destination, to which hotels to stay at, where to shop, and to how to get around using local transportation.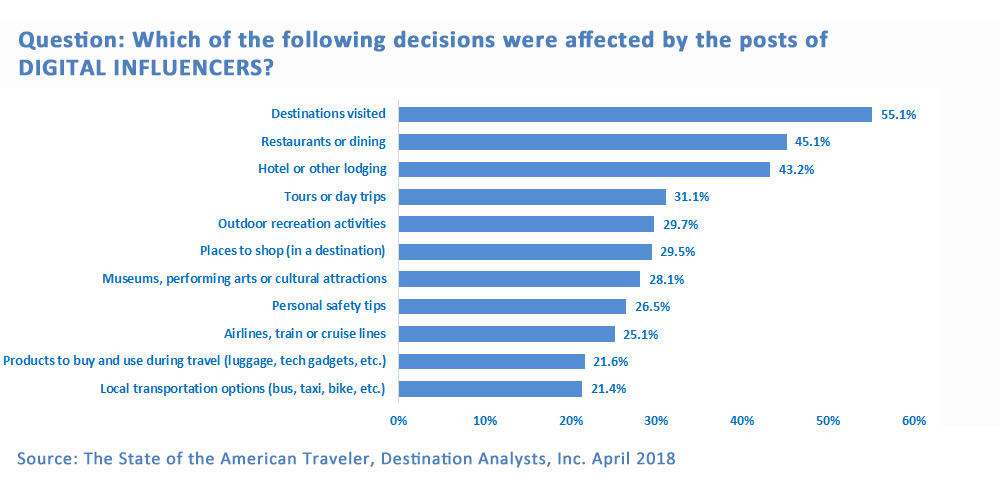 Finally, those who indicated that they had selected a destination to visit based on content from a digital influencer were asked to categorize the type of place it was that they visited. Beach destinations, national parks and big cities were the most common answers, but as the chart below shows, destinations of all types are receiving traffic driven by digital influencers.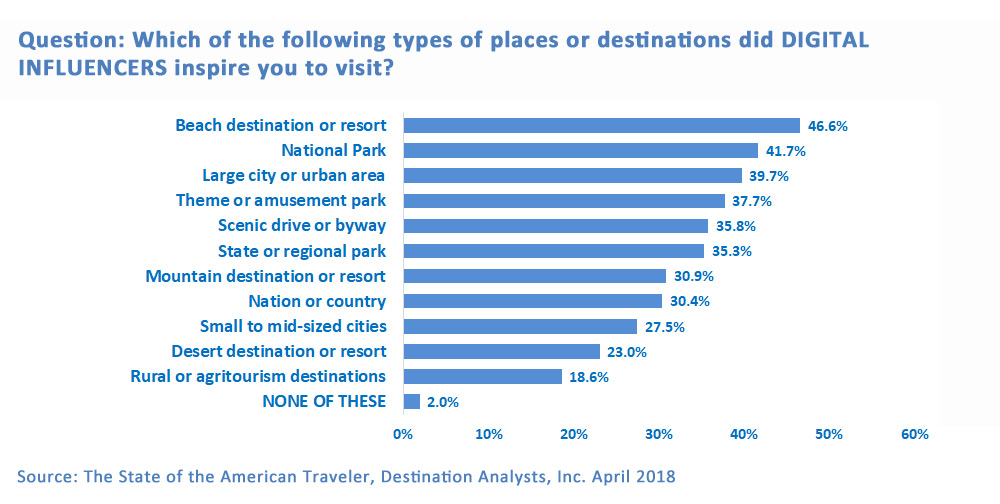 Simply put, digital influencers are important. They've already carved out a significant niche in the battle for consumer attention, and their impact will likely continue to grow.
https://www.destinationanalysts.com/wp-content/uploads/2018/04/destination-analysts-icon.jpg
120
120
Destination Analysts
https://www.destinationanalysts.com/wp-content/uploads/2023/02/rsz_1da_logo_header.png
Destination Analysts
2018-04-23 18:19:59
2018-04-26 21:36:42
Is Influencer Marketing Worth Your Time?