The State of the American Traveler in February 2023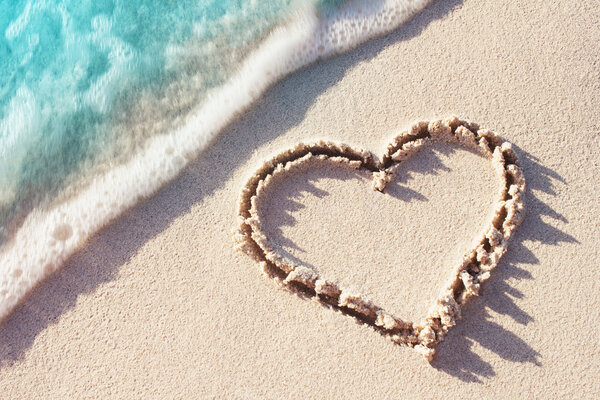 Americans are feeling the love for travel as economic anxieties somewhat abate.
IMPORTANT: These findings are brought to you from our independent research, which is not sponsored, conducted or influenced by any advertising or marketing agency. The key findings presented below represent data from over 4,000 American travelers collected in January 2023.
A Demonstrative Love for Travel
With Valentine's Day in its middle, February is a month often associated with love. Fittingly, love seems to be the feeling Americans have towards travel right now. Americans' level of excitement to travel is at a 3-year high, reaching 8 on a scale from 0-10. In fact, fully 41% of Americans described their excitement for travel at a level 10! Right now, 84% of American travelers have existing trip plans, with one-third of American travelers likely to take at least one international trip this year. Half of American travelers report having 2 weeks or more of days available for their leisure travel. Booking behavior appears to also be up: 17% of American travelers said they made reservations or purchased tickets for trips in the last week alone. Keep reading for some of the factors driving the love for travel and more interesting trends.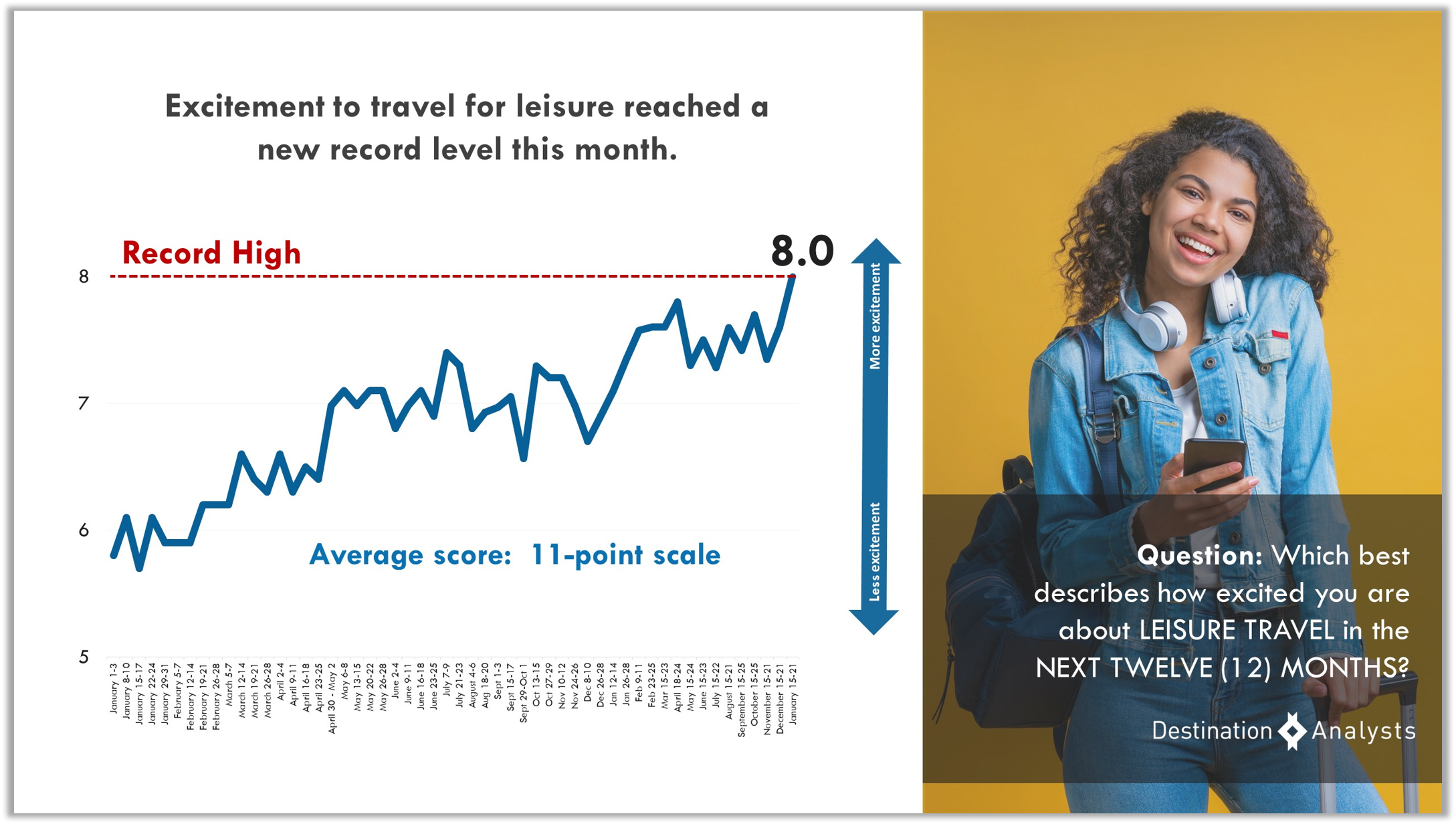 Economic Anxieties Easing
Factors such as easing inflation and GDP growth seem to have abated Americans' economic anxieties to some degree. Although the majority continue to believe that the US will enter a recession soon, 45% of American travelers believe they will be better off financially a year from now. The percent of American travelers who report that inflation led them to cancel a trip dropped to 27% after peaking at 36% in June 2022. Travel costs has abated as a travel deterrent compared to last month. Currently, 42% of American travelers say high travel prices have kept them from traveling in the past month, down from 49% in December. We are seeing a rebound in the percent of Americans who say the present is a good time to spend on leisure travel. At 30%, this is the highest it has been since last summer. In addition, over half of American travelers say that travel is a priority in their budget in the near term. This metric is also increasing, hitting a six-month high after a downward trend in the last half of 2022.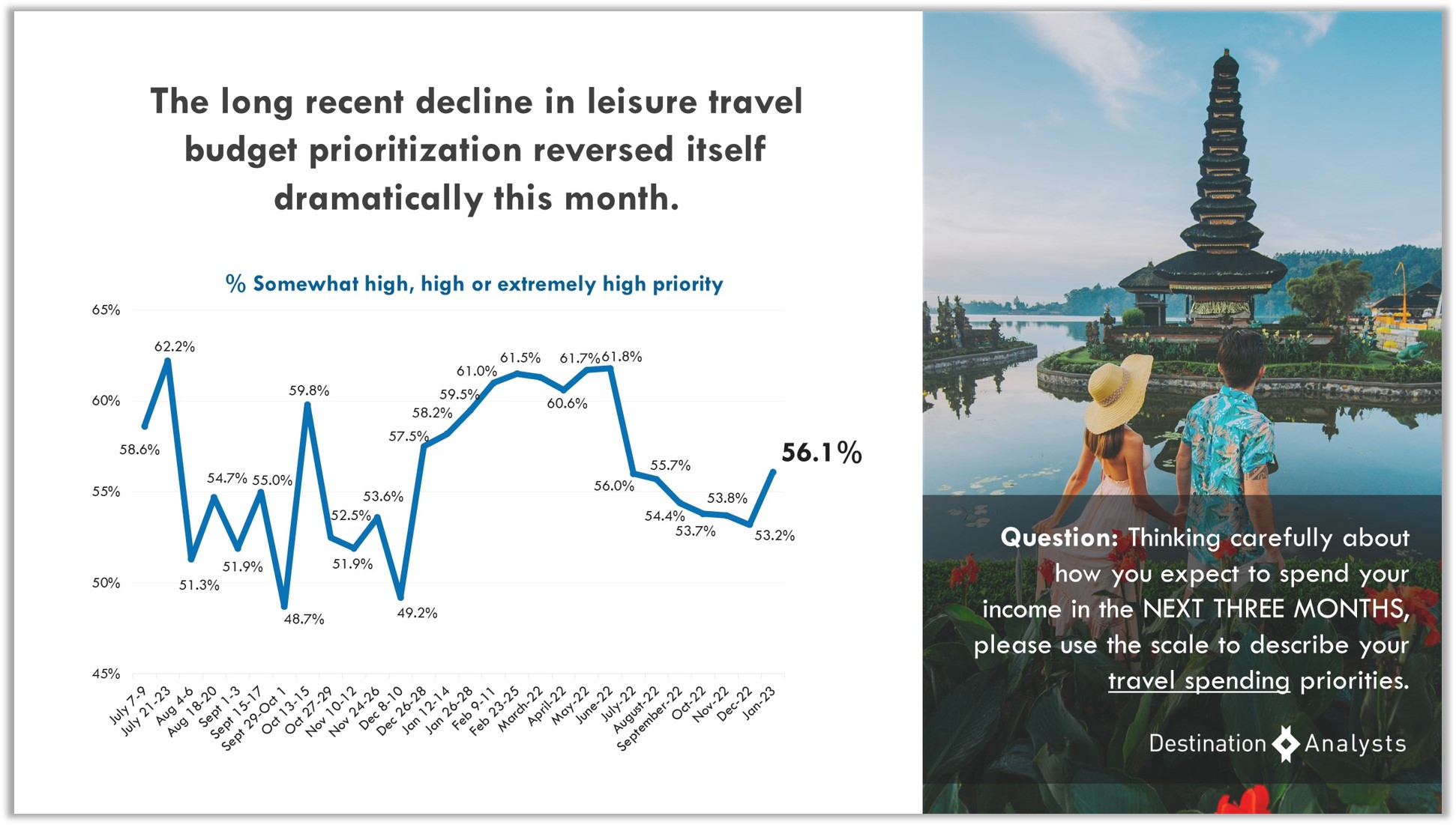 Increasing Rewards Points Usage with Increasing Travel Budgets
American travelers highly rating the importance of credit card and rewards points has climbed 6-points in the last month to 52%. Meanwhile, usage/redemption of rewards points for travel (primarily for airline tickets and hotel stays) has increased 5-points to 33%. Despite the increased valuation and usage of rewards points for travel, Americans' anticipated average spending on leisure travel has increased to $4,407, up from $3991 at the conclusion of 2022.
The Forces Behind Travel Motivation
This month we explored what really fuels the desire to travel. Americans travelers surveyed were asked to think deeply about what motivates them to travel right now, and rated a set of motivators using a 5-point scale from "not motivating at all" to "critically important." Quality time with loved ones, creating memories, experiencing new places, escaping the pressures of daily life and recharging are top tier motivators – about two thirds or more of American travelers cited these as very motivating or critically important. Second tier motivators include connecting with nature, visiting places of historical significance, food and the chance to expand one's own perspective. Third tier motivators are concerts, the arts and shopping, with partying and bragging rights more relatively niche motivations.
Pets, Psychedelics & Other Noteworthy Travel Trends
Some other travel trends to keep in mind include:
24% of American travelers say they have brought a pet along with them on at least one trip in the last year. Of this group of pet-toting travelers, 44% say they "usually" or "always" travel with their pet(s).
22% of American travelers are interested in psychedelic tourism–traveling to explore the use of drugs such as ayahuasca or psilocybin
17% used a travel advisor or travel agent to plan one or more trips in the past 12 months

For the complete set of findings, including historic data and custom information on your destination or business, purchase a subscription to The State of the American Traveler study.
Learn more about the latest trends during our webinar.
To make sure you receive notifications of our latest findings, you can sign up here.
Have a travel-related question idea or topic you would like to suggest we study? Let us know!
We can help you with the insights your tourism strategy needs, from audience analysis to brand health to economic impact. Please check out our full set of market research and consulting services here.
https://www.destinationanalysts.com/wp-content/uploads/2023/02/rsz_shutterstock_419665789.jpg
400
600
Destination Analysts
https://www.destinationanalysts.com/wp-content/uploads/2023/02/rsz_1da_logo_header.png
Destination Analysts
2023-02-03 17:36:42
2023-04-06 14:53:38
The State of the American Traveler in February 2023