The State of the American Traveler in May 2023 — Risk of Travel's Declining Value Perception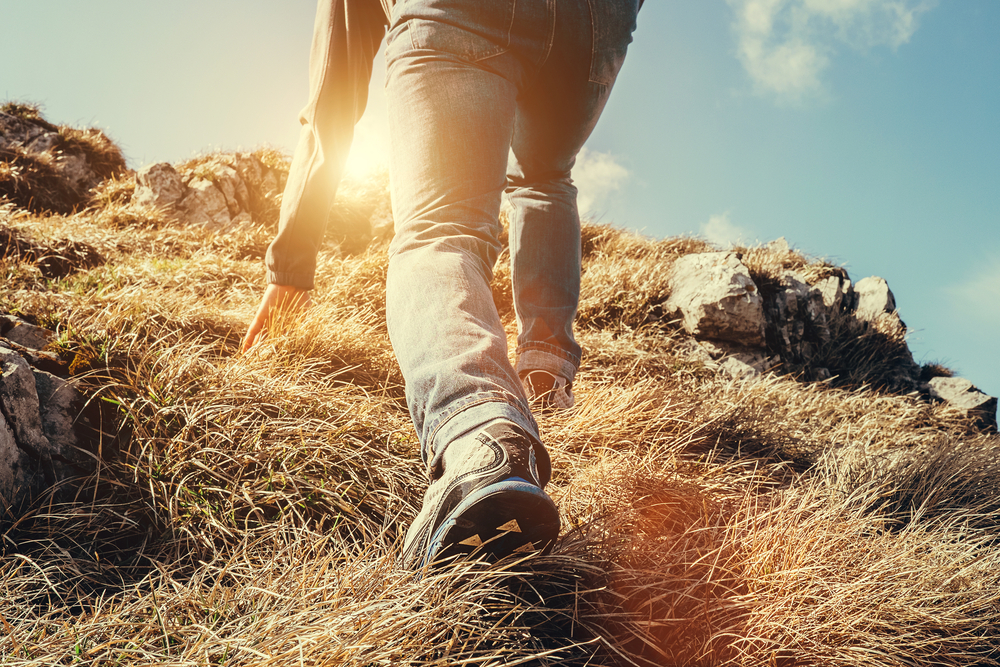 Americans' love for travel continues, but the industry should heed warning signs—particularly feelings of a declining travel experience and the value they receive for their money—which may challenge this devotion.
IMPORTANT: These findings are brought to you from our independent research, which is not sponsored, conducted or influenced by any advertising or marketing agency. The key findings presented below represent data from over 4,000 American travelers collected in April 2023.
Financial Concerns Still Weigh on Travel Sentiment
The biggest impacter on travel sentiment over the last 13 months has been anxiety about the economy. Travelers aren't feeling quite as good about their current financial situation as they were over the last few months. When asked if they/their household are better off or worse off financially than they were a year ago, just 29% said better, a 3-point decline. Meanwhile, 32% said they are worse off relative to a year ago. Thus, Americans reporting that the present is a good time to spend on travel remained at 31%, unable to recover the upward trend that had begun in January. The percent of Americans who feel the U.S. will enter a recession within the next 6 months increased to 57% after a 2-month period below 55%. The cost of travel remains a formidable deterrent. In this survey wave, 45% of American travelers said high travel prices kept them from traveling in the past month—on an upward trend since December and 3 points higher than at the same point last year. However, optimism about their future financial prospects has been trending upward. When asked if, in a year from now, they and their household would be better off financially, or worse off, or just about the same as now—46% feel they will be better off—up 4-points from the same period last year. Personal Leisure travel budgets may be down compared to earlier this year, but remain above where they were at the same point last year at a healthy $4,082. In addition, travelers prioritize having at least one luxury travel experience at a near high.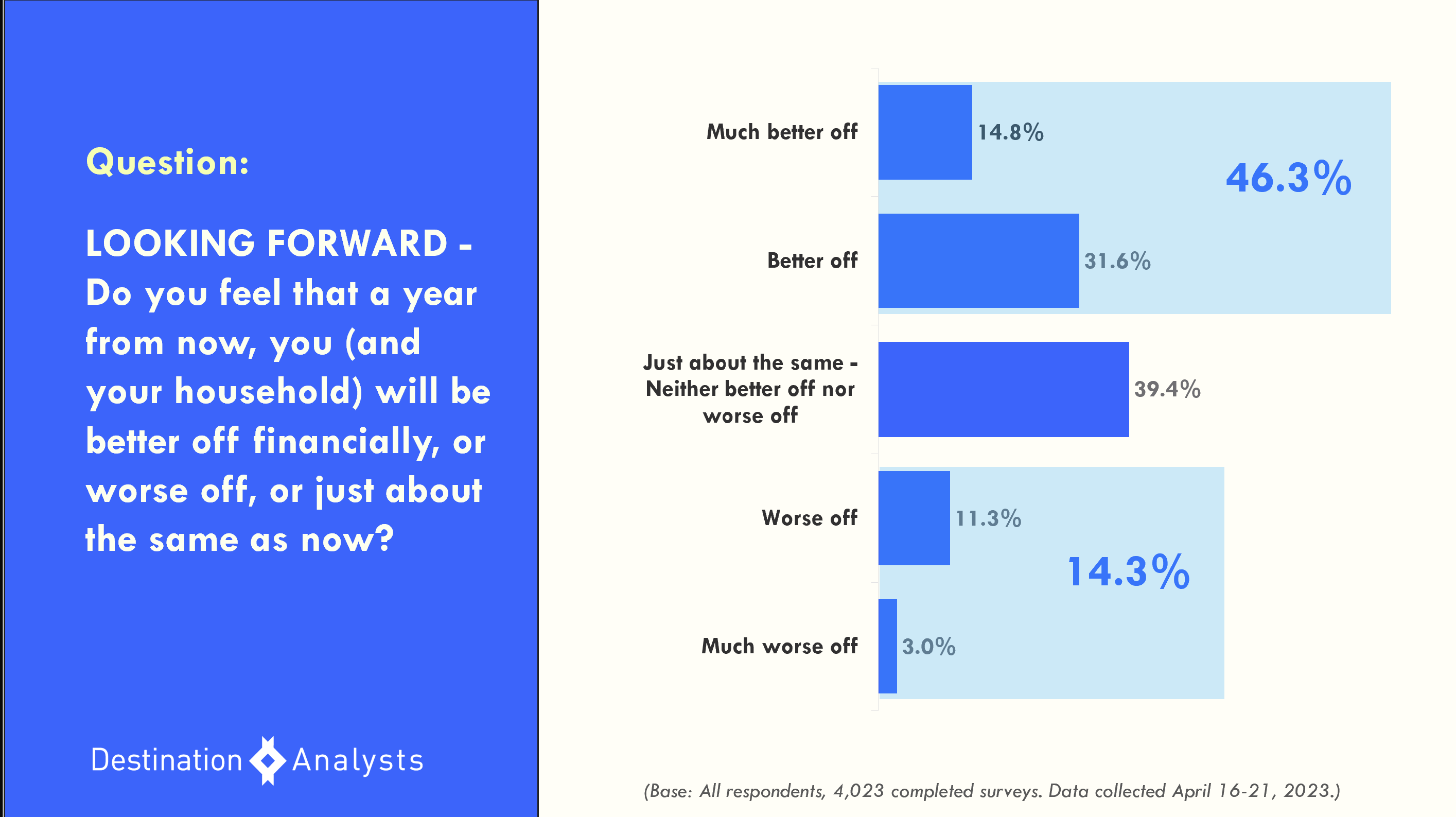 Americans' Maintain their Devotion to Travel
The data confirms the love and devotion to travel is enduring. Americans continue to demonstrate record levels of excitement for travel, registering 8.2 on a scale from 0-10. The enthusiasm is across geographies, from East to West, North to South. Among those most excited about travel right now include, Baby Boomers, families with young kids, and affluent households. We track travel ideation and planning behaviors—from gleaning inspiration to booking tickets–and Americans appear to frequently be doing a lot of both right now. More than 37% researched travel ideas online and 17% booked in the last week. In fact, those that report no engagement in travel inspiration or planning in the last week is at a record low.
Warning Signs: Travel Feels Less Enjoyable, Value Declining
In January we asked American travelers their predictions for the year, and their wariness of the travel industry was glaring in response: price gouging, labor shortages, and an increasingly frustrating domestic travel experience were among the top scenarios that Americans felt would occur in 2023. This made us wonder if the record levels of enthusiasm for travel might wane in the face of the industry's ongoing challenges. This month we asked American travelers to think back to the period immediately before the pandemic and compare that time of traveling to today's travel. When asked if travel overall had become more or less enjoyable, while 25% say it's more enjoyable, a greater 34% say it is less enjoyable. In terms of more specific aspects of travel, 28% say their ability to have fun and enjoy travel had improved, above the 19% that said it was worse. However, over 45% say the reliability of air travel had worsened, 50% say the behavior of other travelers had declined, and a stunning 51% say the value they receive for the money is worse.
This is a sobering but very important reminder for us as an industry to think about and address as we deal with a potentially challenging period economically.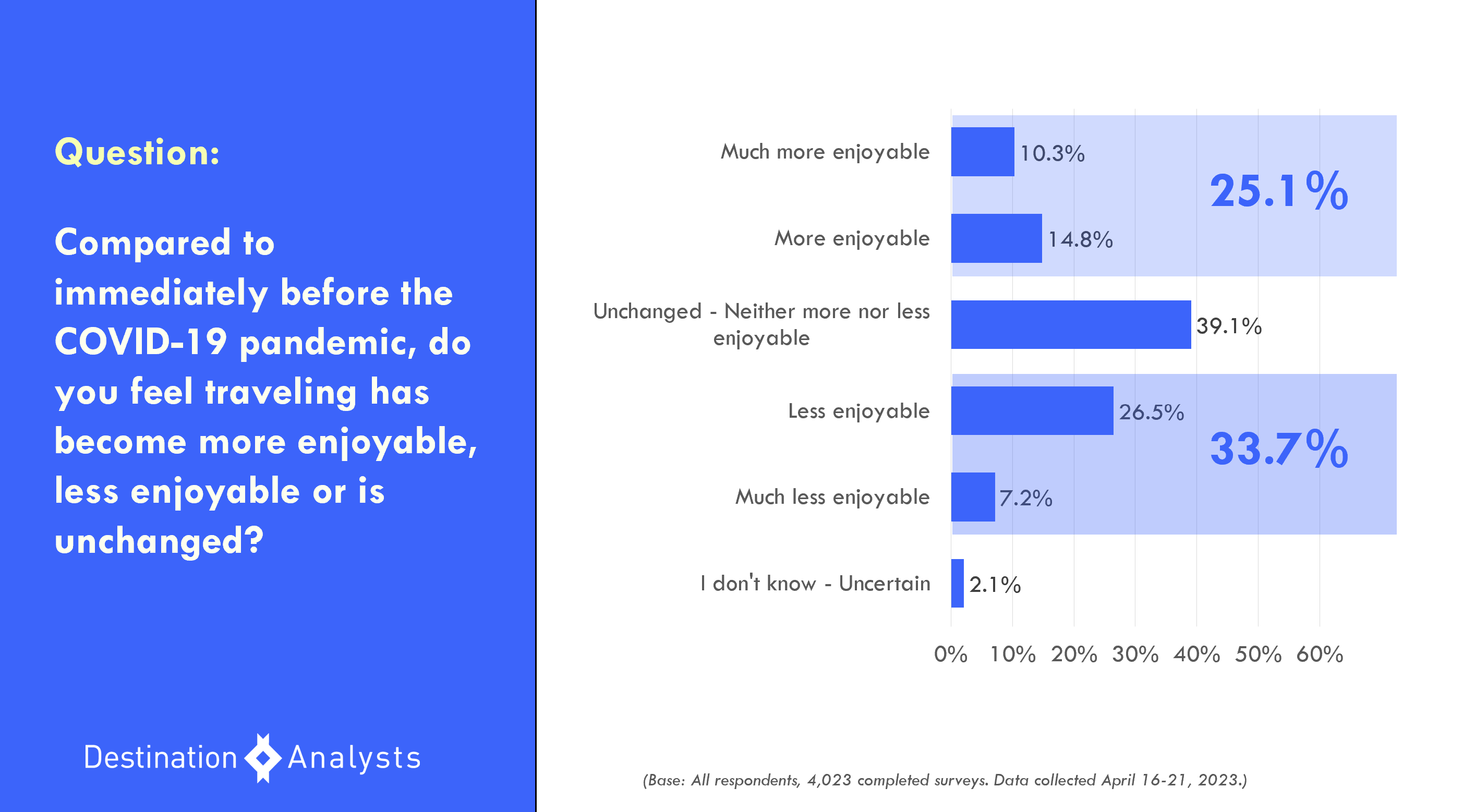 For the complete set of findings, including historic data and custom information on your destination or business, purchase a subscription to The State of the American Traveler study.
Learn more about the latest trends during our livestream.
To make sure you receive notifications of our latest findings, you can sign up here.
Have a travel-related question idea or topic you would like to suggest we study? Let us know!
We can help you with the insights your tourism strategy needs, from audience analysis to brand health to economic impact. Please check out our full set of market research and consulting services here.
https://www.destinationanalysts.com/wp-content/uploads/2023/05/shutterstock_4451784251.jpg
667
1000
Destination Analysts
https://www.destinationanalysts.com/wp-content/uploads/2023/02/rsz_1da_logo_header.png
Destination Analysts
2023-05-09 21:20:01
2023-05-09 21:20:01
The State of the American Traveler in May 2023 — Risk of Travel's Declining Value Perception