Measurements of American travel sentiment continue to illustrate the dichotomy in the American psyche of the seriousness of the pandemic situation and the love for travel. Even with continued strong concern for COVID safety, societal exhaustion with the pandemic and a cultural propensity for optimism have resulted in increasing excitement for travel.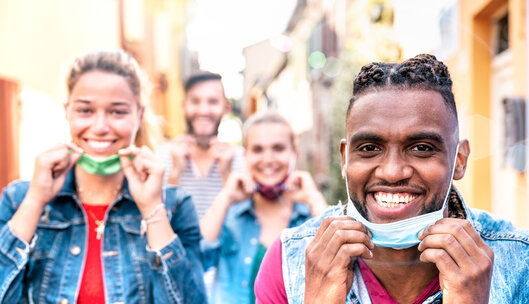 IMPORTANT: These findings are brought to you from our independent research, which is not sponsored, conducted or influenced by any advertising or marketing agency. Every week since March 15, 2020, Destination Analysts has surveyed 1,200+ American travelers about their thoughts, feelings, perceptions and behaviors surrounding travel—specifically in the wake of the coronavirus pandemic—and explored a variety of topics. The key findings presented below represent data collected January 12-14, 2022.
This week's findings from our ongoing research on American travel sentiment continues to illustrate the dichotomy in the American psyche of the seriousness of the pandemic situation and their love for travel.
With Omicron-fueled COVID case records continuing to disrupt life in the U.S.—from staffing shortages to full hospitals—Americans concerned about personally contracting the virus rose over 7-points in the last two weeks to 65.4%. This exceeds levels during the Delta-variant and is the highest it has been since February 2021. In fact, 71.9% report that at least one person in their personal circle has contracted COVID just in the last month alone (2.9 friends, relatives and/or coworkers on average). Omicron also continues to impact trips, with 40.8% of American travelers reporting either a cancellation or postponement specifically due to the variant—an 8-point gain from the start of the month. Nearly 30% have said that the challenges procuring COVID tests have stopped them from traveling in the past month. About 30% of recent trip-takers reported a high-degree of COVID anxiety and three-quarters of all American travelers say they are or will be more careful when traveling because of Omicron.
Nevertheless, while 44.6% of American travelers have frequently worried that people are giving up on COVID safety when they shouldn't, 30% admit to frequently feeling exhausted in the past month from having to deal with the COVID-19 situation and 35% say they have frequently had the thought that "life should go back to normal" despite the pandemic. Optimism that the pandemic will improve in the next month has soared 10-points in the last two weeks to 30.6%.
In fact, this combined societal exhaustion with the pandemic and cultural propensity for optimism have resulted in increasing excitement for—and engagement with—travel. Nearly 80% of American travelers have trips currently planned in 2022. Over 70% have engaged in travel planning and/or dreaming in the past week alone—a 7-point increase over the past month. Excitement for an unplanned getaway (70.0%) and openness to travel inspiration (66.2%) both increased 5-points in the past two weeks. Overall enthusiasm for leisure travel and the number of anticipated leisure trips in 2022 are also on the rise. This week 72.8% of Americans expressed higher levels of excitement for their prospective travel future—reaching the highest level it's been since the Omicron wave began. In fact, when asked for the one word that describes how they feel about travel right now, "excited" is the top response. The average number of anticipated leisure trips Americans plan to take over the next 12 months has hit its highest peak during the pandemic era at 3.1. In addition, more Americans now say that travel will be a spending priority in the next 3 months (58.2%—a 3-month high).
What resources are American travelers turning to for getting inspiration and planning the travel they have on their minds? It appears the typical American traveler has used a wide array of travel planning resources recently. Digital channels naturally dominate destination marketing receptivity. When asked about the channels they'd be most receptive to learning about new travel destinations to visit, website found via a search engine (29.9%), email (24.0%), Facebook (21.3%), streaming video services such as YouTube or Hulu (19.3%) and online content such as articles and blogs (18.0%) topped the list. Instagram is also a top resource for Millennials, while printed travel and lifestyle magazines are key for inspiring Baby Boomers. When it comes to travel planning, Americans are commonly using Facebook (27.0%), YouTube (26.0%) and Instagram (20.9%), online travel agencies (24.6%), online content such as articles and blogs (22.4%), printed travel or lifestyle magazines (16.7%) and television programming (14.4%). American travelers are also looking to official resources such as the official destination website (21.9%) and an online visitor guide (14.7%) or printed visitor guide (11.8%) to plan their travel.
What might Americans be searching for when it comes to travel inspiration and planning? By far the types of trips Americans are most excited about taking in the next year include family trips and romantic getaways. Millennial and Gen Z-aged travelers exhibit much higher levels of excitement for many different trip types compared to older travelers. In terms of interest in specific activities in the next 12 months, Americans are most interested in enjoying scenic beauty, warm weather outdoor activities, road trips, dining in regional restaurants, visiting historical sites and enjoying street food during their travels.
Follow us on social for infographics of these and other key findings. You can also download recent infographics here. Need assets for a presentation or something else? Find all the presentation decks from our ongoing traveler research here—new decks posted on Tuesday afternoon. And please join us Tuesdays at 11:00am EST for a live presentation of the latest insights into traveler perceptions and behaviors.
We appreciate your support of this research from our small but mighty team of devoted tourism researchers. To make sure you receive notifications of our latest findings, you can sign up here.
Have a question idea or topic you would like to suggest we study? Let us know!
We can help you with the insights your tourism strategy needs, from audience analysis to brand health to economic impact. Please check out our services here.
https://www.destinationanalysts.com/wp-content/uploads/2022/01/rsz_shutterstock_1772666765.jpg
304
529
Destination Analysts
https://www.destinationanalysts.com/wp-content/uploads/2023/02/rsz_1da_logo_header.png
Destination Analysts
2022-01-17 06:29:47
2022-01-17 06:49:23
Update on American Travel Trends & Sentiment—Week of January 17th: The Dichotomy of this Virus & Travel