Update on American Travel Trends & Sentiment—Week of November 15th
Amidst a pandemic-era near record high in resident sentiment towards local tourism, last week's reopening of the U.S. borders to international travelers was welcome news to the majority of American travelers—many of whom may be now inspired to venture abroad themselves. Meanwhile it looks to be a busy Thanksgiving travel week—likely one that exceeds even 2019 levels.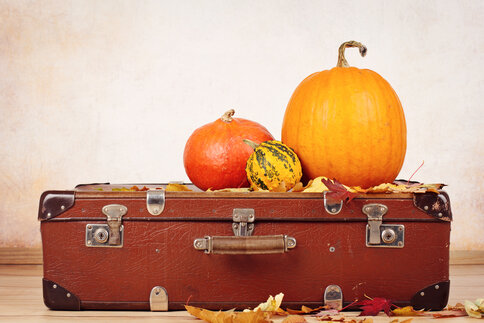 IMPORTANT: These findings are brought to you from our independent research, which is not sponsored, conducted or influenced by any advertising or marketing agency. Every week since March 15, 2020, Destination Analysts has surveyed 1,200+ American travelers about their thoughts, feelings, perceptions and behaviors surrounding travel—specifically in the wake of the coronavirus pandemic—and explored a variety of topics. The key findings presented below represent data collected November 10-12.
Key Findings to Know:
Amidst a near pandemic-era record high in resident sentiment towards local tourism, last week's reopening of the U.S. borders to vaccinated (and COVID-tested) international travelers was welcome news to Americans. When asked about the lifting of international travel restrictions at this point in time, the majority of American travelers (53.8%) said that it was good or very good news. However, this development was relatively more positively received amongst travelers in the West (62.1%); meanwhile those in the Midwest demonstrated the comparatively lowest enthusiasm (47.4%). The reopening of the border is likely inspiring more Americans to venture abroad themselves—those that said they were avoiding international travel hit a record low 55.3%.
In more good news for the travel industry, the Thanksgiving holiday looks to be a busy one—possibly even exceeding 2019 travel levels. The percent of American travelers who say they plan to travel over the Thanksgiving Holiday has more than doubled compared to 2020—30.6% currently say they will versus 12.9% last year. This rate is even higher than in 2019, when 23.1% of American travelers reported taking a Thanksgiving holiday trip. As expected, COVID does remain a travel impediment, with 17.2% saying they have cancelled a Thanksgiving trip this year due to the ongoing pandemic (although this is down from 31.7% in 2020). Nevertheless, the enthusiasm for Thanksgiving travel this year is likely helped by high vaccination rates among travelers and their confidence in these vaccines' ability to protect them against the virus (78.2% report being vaccinated, 63.2% feel firmly confident in their vaccine's protection). In addition, taking a road trip, visiting friends and family, and shopping enjoy strong safety perceptions among travelers.
American travelers' sense of normalcy has dropped slightly, but there has been a modest gain in optimism about COVID's long-term status. Americans' sense of normalcy around leisure activities has dropped 2 percentage points over the past two weeks. Now 29.6% of American travelers feel that the U.S. is "normal" or "close to normal," down from 31.3%." just two weeks ago. Despite the dip in American travelers' sense of normalcy right now, fewer feel that COVID-19 will be with us in the longer term. In fact, 61.7% feel that the COVID-19 situation will remain with us at least for the next several years, compared to 65.9% the week of November 1st.
Unfortunately, a majority of Americans (53.8%) do feel that the U.S. will face another significant wave of COVID-19 in the short-term (i.e., at some point in the next three months). This feeling is strongest amongst Gen Xers (58.0%) and those residing in the Midwest (57.1%). This has started to erode the positive gains made in expectations for the COVID situation in the near-term, with more Americans now saying they expect things to get worse in the next month (23.3% up from 20.4% the week of November 1st).
These near-term expectations about the pandemic are contributing to nearly three-quarters of American travelers saying it's important the destinations they visit continue to maintain careful COVID-19 safety protocols. While this feeling is even stronger amongst older travelers (76.9%), 68.4% of Millennials or younger travelers also deem public pandemic safety measures important in where they choose to travel.
American travelers are split on their comfortability with seeing maskless people in travel advertisements. While 30.0% are comfortable with this, 36.5% are uncomfortable, while 33.5% are neutral. Large crowds of people in travel ads are likely to draw more scrutiny though. While 21.0% of Americans are comfortable seeing large groups of people in travel ads now, 42.4% would be uncomfortable (36.6% are neutral).
Follow us on social for infographics of these and other key findings. You can also download recent infographics here. Need assets for a presentation or something else? Find all the presentation decks from our ongoing traveler research here—new decks posted on Tuesday afternoon. And please join us Tuesdays at 11:00am EST for a live presentation of the latest insights into traveler perceptions and behaviors.
The Destination Analysts team wishes you a safe and fun Thanksgiving holiday. We are so grateful for you and all our many clients and friends in the travel industry!
We appreciate your support of this research from our small but mighty team of devoted tourism researchers. To make sure you receive notifications of our latest findings, you can sign up here.
Have a question idea or topic you would like to suggest we study? Let us know!
We can help you with the insights your tourism strategy needs, from audience analysis to brand health to economic impact. Please check out our services here.
https://www.destinationanalysts.com/wp-content/uploads/2021/11/rsz_shutterstock_497737081.jpg
323
484
Destination Analysts
https://www.destinationanalysts.com/wp-content/uploads/2023/02/rsz_1da_logo_header.png
Destination Analysts
2021-11-15 03:57:50
2021-11-15 05:13:09
Update on American Travel Trends & Sentiment—Week of November 15th