Update on American Travel Trends & Sentiment—Week of January 3rd: What's In Store for Travel in 2022
With COVID remaining a fixture and Omicron continuing to impact trips, Americans welcome 2022 with an enthusiasm for travel that remains largely undeterred, focused on fun in the new year.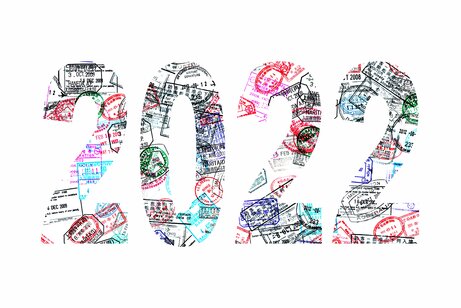 IMPORTANT: These findings are brought to you from our independent research, which is not sponsored, conducted or influenced by any advertising or marketing agency. Every week since March 15, 2020, Destination Analysts has surveyed 1,200+ American travelers about their thoughts, feelings, perceptions and behaviors surrounding travel—specifically in the wake of the coronavirus pandemic—and explored a variety of topics. The key findings presented below represent data collected December 26-28th.
Welcome 2022!
What will this year bring to travelers and the travel industry? Read on for what we learned about American travelers as they closed out 2021 and looked out to the new year ahead.
First, what happened over the holidays, and what can we learn about what the future may hold?
Omicron did impact holiday and other future travel. The number of American travelers reporting that that the situation with the Omicron variant has impacted their travel continued to grow—to 32.9%, up from 30.9% two weeks prior. Of the group of travelers who were impacted, 50.7% say they have postponed one or more trips and 43.5% say they have flat-out cancelled a trip(s). When asked the week of December 13th, 29.8% of American travelers said they planned to travel over the Christmas holiday. However, when asked if they had in fact traveled over the holiday, only 23.3% actually did. While one-in-five (20.7%) continued to report that they would travel over the New Year's holiday, there was still a 5-point decline in the percent of American travelers who said they would take leisure trips in January (to 15.1% from 20.7% two weeks ago). Nevertheless, leisure travel appeared robust in the last quarter of the year overall, with over one-third of American travelers taking at least one overnight leisure trip during this period and 33.6% reporting taking an overnight trip to visit friends or relatives.
What's in store for 2022?
COVID still looms large. Currently 25% of travelers are experiencing stronger levels of anxiety, the highest rate we've seen since October 27th. Nearing half (46.3%) feel that the pandemic in America will get "worse" or "much worse" in the next month—up over 20 points since Fall. Firm confidence in travel's safety has also declined. This week just 38.2% say they are confident or very confident in their ability to travel safely in the current environment, down 10 points from November 12th. Americans feeling higher degrees of normalcy in their ability to travel as they like dropped to 31.0%—the lowest it has been since September 29th. Plus, 27.5% say it's likely that Omicron will impact their travel over the next 6 months.
Yet despite record COVID cases in the U.S. and a holiday period of massive flight cancellations, Americans' overall travel sentiment has actually improved. Those in a ready-to-travel state of mind rose to 77.9%—up from 76.0% December 13th and among the highest levels since the start of the pandemic. The proportions avoiding conferences/conventions and international travel have both declined (now at 50.5% and 60.6% respectively). Just 38.2% say they don't want tourists in their own communities right now—meaning Omicron did not impact local sentiment towards tourism to the same degree that Delta or the original viral strain did. While Omicron has and will impact travel, thus far it has not quelled Americans' interest in travel in the ways previous COVID surges did. In fact, fewer now say that news about Omicron cases makes them less interested in traveling (50.1%, down from 54.3%). Strong excitement for leisure travel grew to 69.2%. Americans are also increasingly enthusiastic to learn about new travel experiences (61.1%). They are also willing to make the financial commitment for travel—35.5% feel that now is a good time to spend on travel and 57.5% will prioritize spending on travel in the next three months. Over 30% of American travelers expect to take more leisure trips in 2022 than 2021 and the average American traveler plans to spend $3,912 on their travel this year. In Q1 of 2022 alone, 46.0% say they will take at least one leisure trip and 11.1% say they will take at least one business trip.
American travelers will have a firm focus on fun. When asked about their travel in 2022, Americans' most say they will prioritize having fun (75.8%), followed by relaxing (69.2%), finding happiness (64.1%) and escaping stress (60.9%). For the majority of American travelers, the travel experiences they will highly prioritize are spending time with loved ones, enjoying nature, going to new place they have not been before and getting away from crowds. In contrast, only 21.1% say they will prioritize staying close to home. Millennial and Gen Z travelers are also likely to orient towards budget travel in this new year. Trip experiences garnering a strong interest from American travelers include enjoying scenic beauty (70.2%), warm weather outdoor activities (66.0%), beach destinations and resorts (63.4%), road trips (61.3%), visiting U.S. National Parks (58.8%), and cuisine and food experiences (56.8%)—thus, marketing travel with one or more of these types of experiences should be successful in garnering interest. Note that for Millennial and Gen Z-aged travelers—who have stronger interests in a more diverse set of experiences overall—festivals and special events (75.2%), big city experiences (74.3%), arts and culture (70.8%), and theme and amusement parks (75.5%) are much more attractive (relative to older travelers). Florida and Orlando, Hawaii, New York, California, and Las Vegas still dominate American travelers' thinking about popular trip destinations. And when it comes to the COVID-age workcation trend, 46.0% of employed American travelers say they are interested or extremely interested in taking a workcation in 2022.
Follow us on social for infographics of these and other key findings. You can also download recent infographics here. Need assets for a presentation or something else? Find all the presentation decks from our ongoing traveler research here—new decks posted on Tuesday afternoon. And please join us Tuesdays at 11:00am EST for a live presentation of the latest insights into traveler perceptions and behaviors.
We appreciate your support of this research from our small but mighty team of devoted tourism researchers. To make sure you receive notifications of our latest findings, you can sign up here.
Have a question idea or topic you would like to suggest we study? Let us know!
We can help you with the insights your tourism strategy needs, from audience analysis to brand health to economic impact. Please check out our services here.
https://www.destinationanalysts.com/wp-content/uploads/2022/01/rsz_shutterstock_2068152566.jpg
308
461
Destination Analysts
https://www.destinationanalysts.com/wp-content/uploads/2023/02/rsz_1da_logo_header.png
Destination Analysts
2022-01-03 05:25:42
2022-01-03 17:32:14
Update on American Travel Trends & Sentiment—Week of January 3rd: What's In Store for Travel in 2022