Travel Sentiment Is a Reliable Leading Indicator for Hotel Performance
Level of Excitement for Theoretical Getaways Predicts Following Month's Hotel Occupancy
Guest Post by Chelsea McCready, Senior Director of Hospitality Market Analytics for Costar Group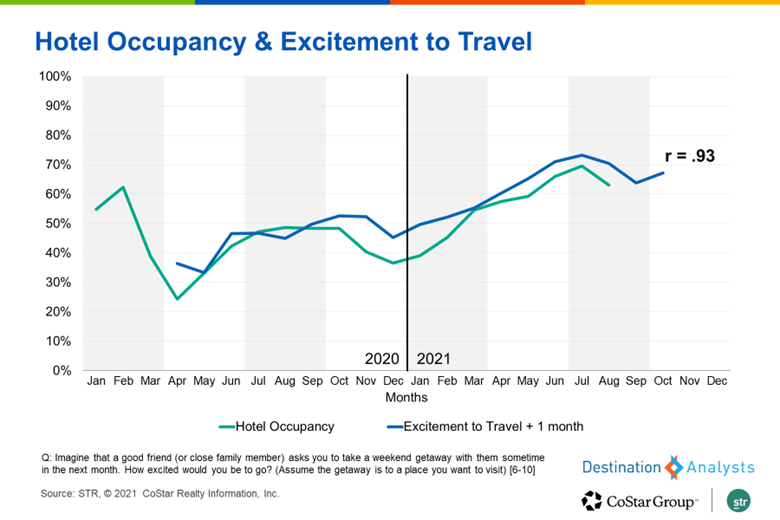 Travel sentiment has been a hot topic since the onset of the pandemic. Hotels, airlines, tourism marketing organizations and hospitality investors are desperate to understand how potential travelers are thinking and feeling about travel amid the roller coaster of the past 18 months.
Destination Analysts is one of the travel research companies tracking sentiment data. Since March 2020, they have surveyed about 1,200 potential travelers across the U.S. on a weekly or bi-weekly basis. The study includes questions about travel plans, confidence to travel safely, excitement to travel in the next month, expectations about the coronavirus situation, personal concern about catching COVID-19, and more.
Many measures of travel sentiment move directionally in line with hotel occupancy, but excitement to travel has the highest correlation with hotel occupancy. The company asks: "Imagine that a good friend (or close family member) asks you to take a weekend getaway with them sometime in the next month. How excited would you be to go?" The share of respondents that rate their excitement as six or higher on a 0-10 scale is a reliable predictor of the following month's hotel occupancy.
This measure of travel sentiment predicts that hotel occupancy will soften from August to September, then increase again in October. U.S. hotel occupancy was 63.2% in August, and preliminary occupancy through Sept. 18 is 62.6%.
One important factor impacting hotel occupancy that wouldn't be accounted for in this question is group demand, which made up 25% of hotel room demand prior to the pandemic. Thus far, the hotel occupancy recovery has been driven by leisure demand. But when group demand starts to recover in a more substantial way, hotel occupancy may outperform predictions from this leisure-focused travel sentiment question.
Note: This article originally appeared on https://www.costar.com/article/355142599. The author, Chelsea McCready, joined Destination Analysts' Coronavirus Travel Sentiment Index Update webinar on September 21st and presented several more analysis of hotel and sentiment data. To watch the full presentation and download the accompanying files, you may do so here: https://www.destinationanalysts.com/webinars/september-21st-update-on-covid-19s-impact-on-american-travel-2/
https://www.destinationanalysts.com/wp-content/uploads/2021/10/CoStar.png
520
780
Destination Analysts
https://www.destinationanalysts.com/wp-content/uploads/2023/02/rsz_1da_logo_header.png
Destination Analysts
2021-10-18 03:11:15
2021-10-18 03:15:47
Travel Sentiment Is a Reliable Leading Indicator for Hotel Performance