How Business Travel Will Continue to be Impacted by COVID-19 in 2021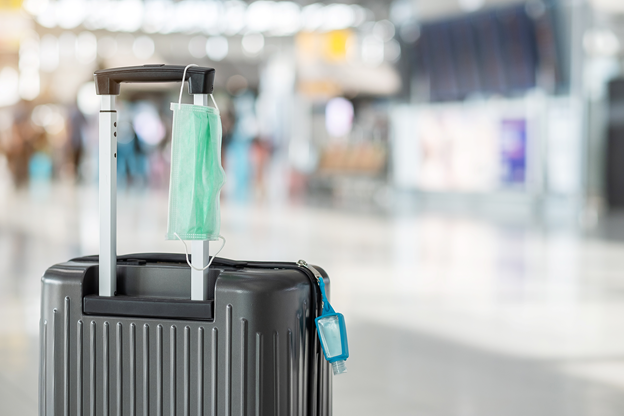 As travel industry professionals, we are well aware that all facets of travel halted with the onset of COVID-19. The loss of business travel, an essential segment for the travel industry's health, is a particularly painful hardship. According to the U.S. Travel Association, in 2019, direct spending on business travel by domestic and international travelers, including expenditures on meetings, events and incentive programs totaled $334.2 billion. So, you can only imagine what the lack of business travel has done to our industry in 2020 and now into 2021. And with the pandemic ongoing, in-person business travel activities, such as client meetings, training, presentations and product launches, continue to be nixed or heavily restricted.
With the pandemic's drastic impact on working life for many Americans, what does this mean for the future of business travel?
Destination Analysts explored the future of business travel in the December 7th wave of our Coronavirus Travel Sentiment Index Study. We asked Americans who traveled for business if they anticipate their employers will approach business travel differently in the next 2 to 5 years. Just under half of business travelers feel that the COVID-19 pandemic will indeed change the business travel dynamic in both the short and longer term.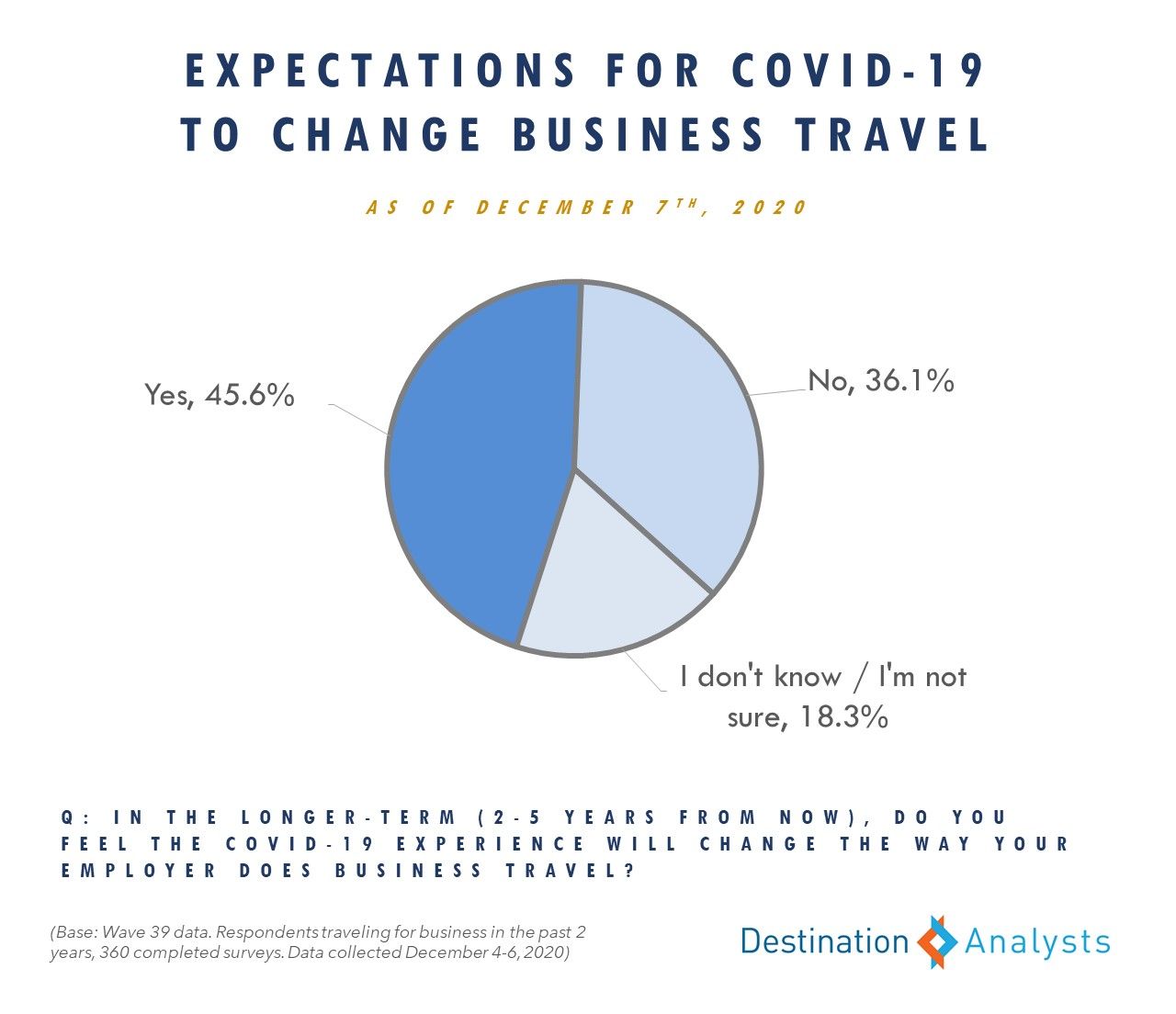 The expected changes that will affect business travel range from a decline in the volume of business trips that will be taken to required adherence to stricter health and safety standards. When asked what ways they expect their employers will change business travel over the longer term, over half of American business travelers said they anticipate fewer overall business trips will be taken, while nearly a third said trips will be shorter in length. Other anticipated changes include more travel that is replaced by webinars or virtual meetings. There are also notable expectations for smaller groups traveling on a business trip, more restrictions on travel budgets and more restrictive health or safety protocols for traveling staff.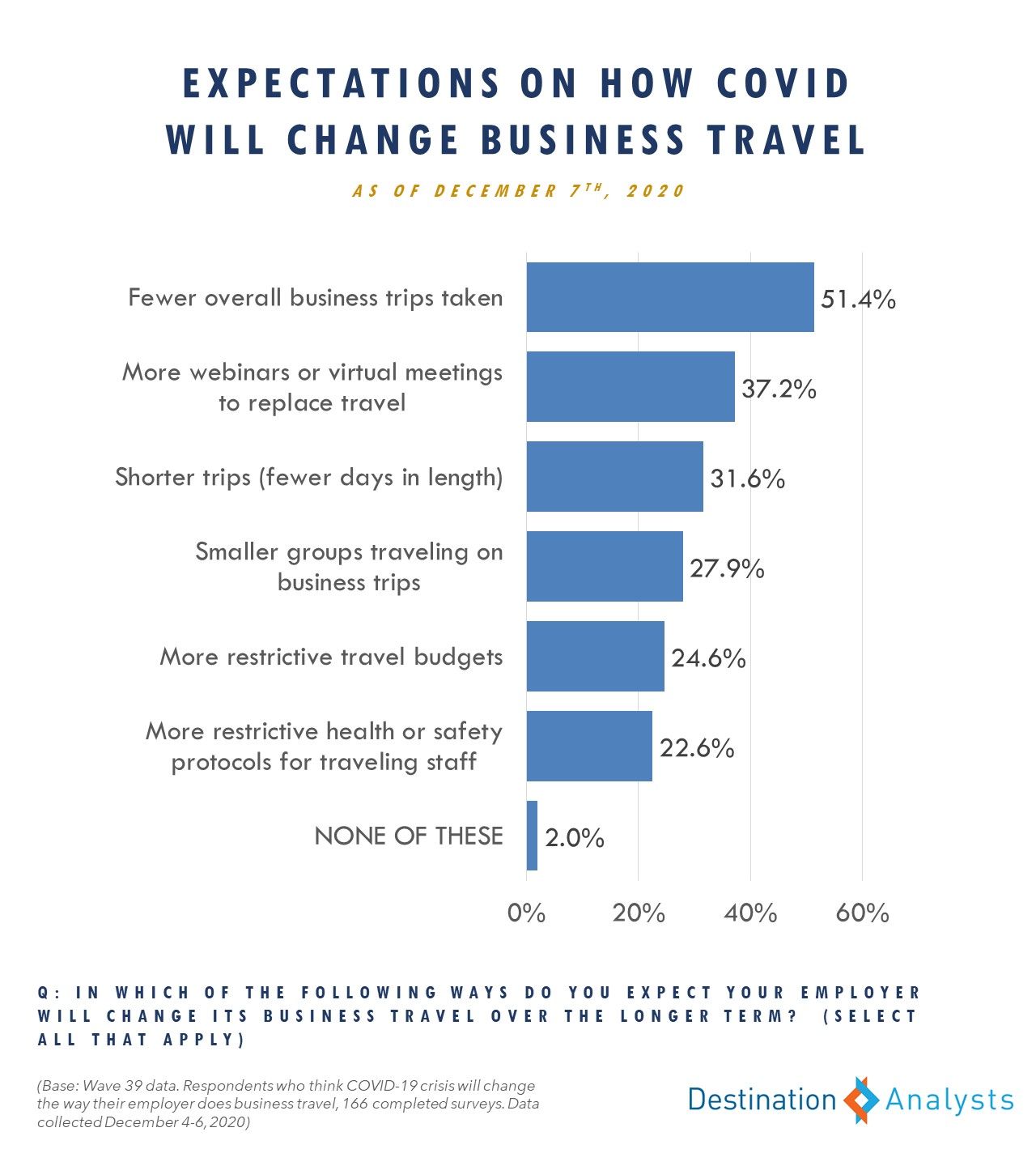 On the employer side, there is a lot to consider when it comes to business travel and the ongoing threat of COVID-19. In our October 20th industry update webinar, Destination Analysts' President & CEO Erin Francis-Cummings interviewed Elaine Cameron, Global Senior Director of Human Resources at Munchkin, Inc., where employee travel is currently restricted to business-critical travel only. At Munchkin, business travel is only permitted if it meets safety standards and can't be done virtually. While business travel is important to Munchkin's operations, Elaine predicted that the turning point for business travel to resume to normal levels would be "when our employees feel safe and that's ultimately when we have a vaccine." In a positive sign for business travel, findings from our January 18th wave of our Coronavirus Travel Sentiment Index Study show that the majority of business travelers who have not yet been vaccinated anticipate that they will receive the vaccine by June of this year (62.8%).
Although the pandemic looks to have a continued effect on business travel for both employers and employees alike—from fewer to shorter to virtual–the January 18th wave of our study also found that over two-thirds of business travelers felt that vaccine developments made them more optimistic about life returning to normal within the next 6 months. Perhaps then the severity and time frame of these impacts to business travel may be lessened.
https://www.destinationanalysts.com/wp-content/uploads/2021/01/Blog-How-Business-Travel-Will-Continue-to-be-Impacted-by-COVID-19-in-2021.jpg
720
1280
Destination Analysts
https://www.destinationanalysts.com/wp-content/uploads/2023/02/rsz_1da_logo_header.png
Destination Analysts
2021-01-18 02:40:53
2021-01-18 02:59:29
How Business Travel Will Continue to be Impacted by COVID-19 in 2021