"Irrational Exuberance"? The Current State of Affairs for Global Concessionaires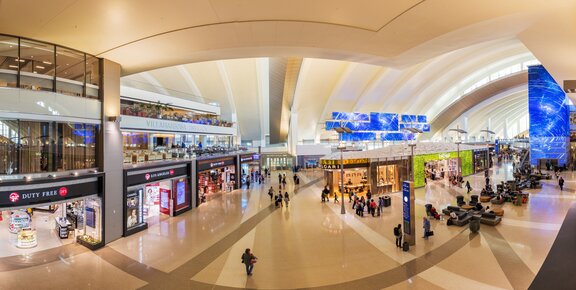 There may very well be few businesses in the travel and tourism industry that were left unscathed in the global pandemic's path. Airport concessionaires are certainly not among them. Often taken for granted, airport concessionaires can be the highlight of extensive wait times and long-haul travel, serving everything from light refreshments and delicious dinners, to reading materials, gifts or anything else travelers' hearts might desire. And over the past year, airport restaurants and retailers have been fighting a fierce battle for survival.
Following our industry update webinar on April 13th, David Reichbach, Destination Analysts' Senior Director of Analytics and Data Security, led an illuminating, yet sobering panel discussion with global leaders in travel restaurants and retail stores. Carlos Bernal, Chief Executive Officer at Areas USA, John Cusagi, Vice President of Marketing at Paradies Lagardère and Pat Murray, Executive Vice President at SSP America graciously joined us to share their outlook on travel recovery, the challenges they're currently facing and the long-term changes they anticipate for the future. You can watch the discussion in this video and find our key takeaways below.
Key Takeaways:
The current state of the world for global concessionaires is "irrational exuberance." After a year of isolation, travelers are ready to leave their homes and venture out, a trend that is expected to continue throughout the summer months. It has permeated the travel industry with an air of optimism, however some anxiety remains and it is unclear whether this "exuberance" is justified. With uncertainty about sustained wanderlust and when business travel will resume to pre-pandemic levels comes challenges around long-term forecasting and operational planning. While these global concessionaire leaders expressed hope in soon rising out of the pandemic cloud, they also questioned whether their current experiences are a result of "irrational exuberance."
Like many businesses, tourism-reliant restaurants and retailers are struggling with the inability to plan. As much as they would love to hire employees, travel trends aren't completely steady and thus, airport restaurants and retailers aren't able to accurately predict how much staff they will need and when. Particular to their businesses, it takes several weeks to hire and badge airport employees, which is a challenge as more restaurants and stores re-open. In addition, the panel of global concessionaires voiced concerns about being pushed to open too soon while also balancing the momentum of keeping operations running.

Health and safety protocols are here to stay. Careful measures towards health, safety and cleanliness were well in progress prior to the onset of the coronavirus, but have been significantly accelerated as a result of the pandemic. Often in the spotlight when it comes to travel, concessionaires are keen to have the best practices around health and safety. And with the pandemic "the one silver lining is it's pushing businesses to do some very good things faster."
Technology has been changing, and will continue to change, consumer purchasing behaviors. Frictionless transactions through one's mobile phone potentially eliminate taking out one's wallet or credit card and interacting with restaurant and retail staff. In general, more air travelers are ordering food through their phone, which competes with ordering at a sit-down casual restaurant or quick-service counter. Similarly, automated retail allows consumers to select and receive exactly what they want from a machine and will become much more prominent in pre and post-security areas. Nevertheless, the panel of global concessionaire executives were optimistic that personal experiences, such as ordering a drink at the bar and chatting with the bartender, will return in due time.
Destination Marketing Organizations can best support airport concessionaires by leading the conversation around travel. Reminding people why they travel and the benefits of travel can really help them feel more comfortable. Within the larger conversation of travel, DMOs should promote health, safety and cleanliness. As mentioned during the panel discussion, airlines and airports are "doing everything they possibly can to ensure that it is a safe environment, both on the plane and in the airports. Not only for our teammates and but also for the traveling public. So the more we get that messaging out there, the better."
https://www.destinationanalysts.com/wp-content/uploads/2021/04/rsz__n_8bk-m.jpg
290
576
Destination Analysts
https://www.destinationanalysts.com/wp-content/uploads/2023/02/rsz_1da_logo_header.png
Destination Analysts
2021-04-26 00:47:48
2021-04-26 01:03:53
"Irrational Exuberance"? The Current State of Affairs for Global Concessionaires