The HR Perspective on the Return to Business Travel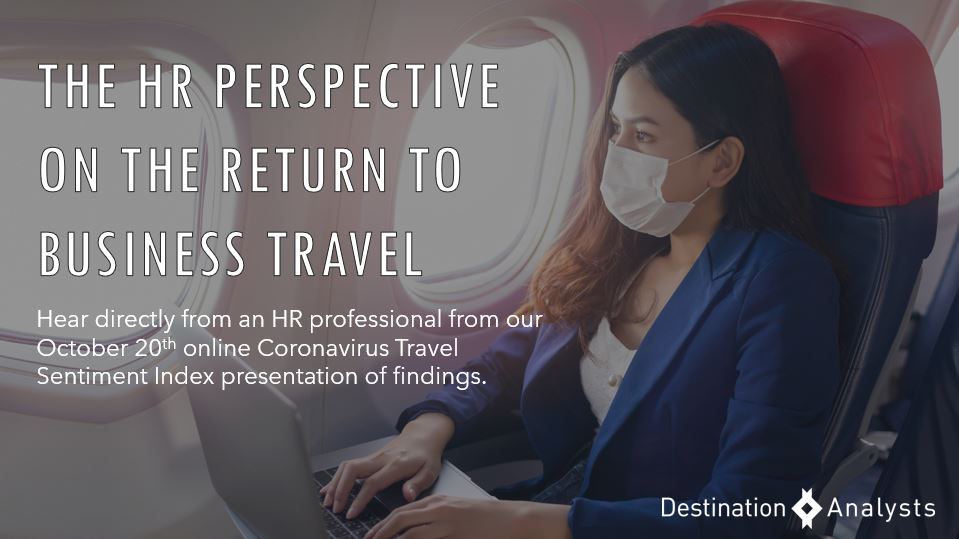 During Destination Analysts' industry update webinar on October 20th, Destination Analysts' President & CEO Erin Francis-Cummings interviewed a panel of HR and meeting planner professionals, including Elaine Cameron, Global Senior Director of Human Resources at Munchkin, Inc.
Here are three insights that emerged about how HR views the return to business travel:
Employee health and safety must be top priority. As a global brand with offices located all over the world, travel was essential to normal business operations at Munchkin prior to the pandemic. However, employee travel is currently restricted to "business critical travel only." One of the primary factors that HR is seeking for business travel to resume to normal levels is when employees feel safe to do so, which is gauged through employee surveys. Elaine predicts this sentiment will more fully return after a vaccine is available.

HR is currently responsible for business travel approval, and these trips must meet several criteria in order to be approved.
These are:
– The business meeting must be proven to meet corporate safety standards
– Travel can only be to or within destinations that do not have travel restrictions in place
– The business meeting must be deemed critical to business operations or goals (e.g. tactile client presentations)

While it may take time to fully return, business travel is still perceived as integral to success. With the upcoming cold season and tighter travel restrictions in Europe and beyond, Elaine predicted that the earliest business travel would regularly resume at Munchkin is April, although a readily available vaccine would accelerate the timeline. Yet business travel is seen as fundamental to company operations—especially when it comes to hiring new high-level executives and interacting with key clients—so HR and other executive management will be happy when employees can more easily get back on the road again.
https://www.destinationanalysts.com/wp-content/uploads/2020/10/The-HR-Perspective-1.jpg
539
959
Destination Analysts
https://www.destinationanalysts.com/wp-content/uploads/2023/02/rsz_1da_logo_header.png
Destination Analysts
2020-10-26 01:49:53
2021-01-12 21:07:24
The HR Perspective on the Return to Business Travel