The State of the American Traveler in December 2022—Holiday Travel Inspiration & the Importance of Deals and Rewards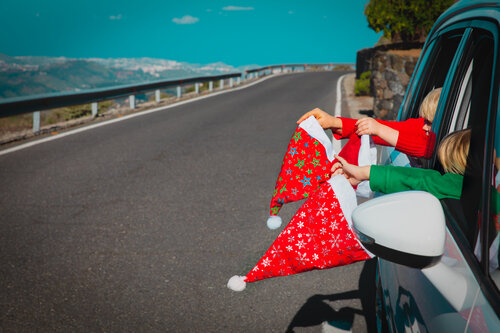 Over half of American travelers say they are taking a vacation or other trip this holiday season, and the majority of these holiday travelers are still open to ideas and destination inspiration. Meanwhile, as many Americans feel a recession looming, deals, discounts and rewards programs are gaining importance.
IMPORTANT: These findings are brought to you from our independent research, which is not sponsored, conducted or influenced by any advertising or marketing agency. The key findings presented below represent data from over 4,000 American travelers collected in November 2022.
First…Happy Holidays! We wish you and yours much joy and merriment this season.
Americans Looking to Travel this Holiday Season—Still Open to Ideas
The holiday travel season is upon us and well over half (55.1%) of Americans plan to take at least one leisure trip between now and January 7th, and 29% plan to take two or more such trips in this timeframe. Although 47.4% of these holiday travelers plan to stay in the home of a friend or relative on these trips, 58.4% will also in paid lodging (23% at a 3 or 4-star full-service hotel, 15.3% at a budget hotel, 11.4% at a 5-star hotel and 8.9% in peer-to-peer lodging). On average, the duration of these holiday trips will be 5.3 days.
American's top holiday season travel priorities include spending time with family (81.4%), relaxation (69.7%) and of course enjoying family traditions (67.7%). In addition, nearly a quarter will prioritize meeting new people (24.8%) and/or traveling outside the United States (23.9%). While 48.4% say these holiday trips are being taken to celebrate a specific holiday, 42.3% say at least one of their trips will be purely for vacation or a weekend getaway.
In terms of the types of destinations Americans plan to visit, small towns (32.7%) and cities (32.5%) will be most common followed by beach destinations (23.1%), state/regional parks (15.0%) and theme parks (14.5%). And in good news for destination marketers, over half (52.4%) of holiday travelers say the destinations they plan to visit this holiday season have not yet been firmly decided.
Deals, Discounts & Rewards Gain Importance as Travelers Get More Careful with their Money
Fewer Americans now say that inflation in consumer prices has led them to cancel an upcoming trip. Now, only 28.7% say they have, which is down nearly 8 points from June. Similarly, the proportion of Americans who say they will take fewer road trips this winter if gasoline prices don't come down has dropped to a low of 52.4% (which is down 16 points from its peak in June). Additionally, when we look at what has deterred Americans from traveling more than they would have otherwise preferred in the last 6 months, fewer are now citing the expense of gas (41.1%; down 6 points from July), airfare being too expensive has also declined (26.3%; down nearly 5 points since October) as has concerns over the possibility of flight cancellations (9.7%; down 6 points from August).
Despite these improvements, nearly 60% of Americans still expect the U.S. to enter an economic recession sometime in the next 6 months and therefore 64.7% of all travelers say they are being careful with their money now. In this vein, nearly three-quarters (74.4%) of Americans agree that travel deals and discounts are more important to them now compared to 6 months ago. Our latest survey also found that nearly 31% of Americans have used credit card points/rewards for travel-related purchases in the past 12 months alone, with the most common purchases being airline tickets and hotel stays (52.7% and 50.8%, respectively). Far fewer of these credit card point redeemers have used their rewards for upgrades to their hotel room (13.3%) or airline seat (11.7%).
International Travel Interest & Japan's Reopening
Currently, 29.8% of Americans say they are likely to travel abroad in the next 12 months (which is down 4 points compared to October) with Italy, Canada, the U.K., Mexico, France and Japan being the most desired foreign destinations currently. And because Japan just reopened their borders to tourism for the first time since the start of the pandemic, we further gauged American's interest in visiting this island Asian nation. Just over one-in-three Americans (35.7%) said they were aware of Japan's border reopening and one quarter (25.1%) say they are interested in visiting in the next 12 months. Of these interested parties, their top drivers of aspiration for visiting Japan includes food and cuisine, history/heritage sites, arts and culture, unique activities, adventure and being a bucket list destination.
To make sure you receive notifications of our latest findings, you can sign up here.
Have a question idea or topic you would like to suggest we study? Let us know!
We can help you with the insights your tourism strategy needs, from audience analysis to brand health to economic impact. Please check out our services here.
https://www.destinationanalysts.com/wp-content/uploads/2022/12/rsz_1shutterstock_1527093695.jpg
333
500
Destination Analysts
https://www.destinationanalysts.com/wp-content/uploads/2023/02/rsz_1da_logo_header.png
Destination Analysts
2022-12-02 04:54:43
2022-12-02 05:22:56
The State of the American Traveler in December 2022—Holiday Travel Inspiration & the Importance of Deals and Rewards