Welcome 2023! The State of the American Traveler in January—Americans' Top Travel Predictions for the New Year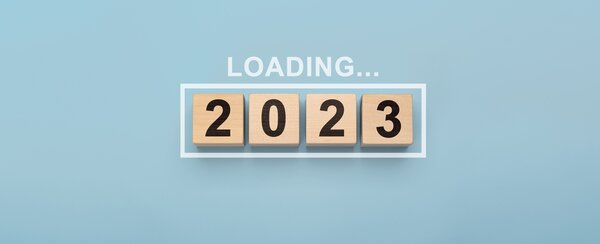 Wariness about the travel industry can be seen in American travelers' predictions about what will happen in 2023. Yet they remain very excited about their travels ahead—from capitalizing on dream trips to enjoying more authentic experiences.
IMPORTANT: These findings are brought to you from our independent research, which is not sponsored, conducted or influenced by any advertising or marketing agency. The key findings presented below represent data from over 4,000 American travelers collected in December 2022.
Happy 2023! May this year bring you much joy, prosperity and, of course, many incredible travel experiences! We'll continue to keep you covered with the insights you need on the hows, whys and whos of travel and tourism.


High Travel Prices Costly to Travel Morale
For the last several months, we have been wondering if and when Americans' patience with the high costs of travel will run thin. This may be coming to fruition. Currently 45% of Americans said travel being too expensive kept them from taking as many trips as they would have liked in the past six months—now statistically tied with gas prices as the #1 cited travel deterrent. This finding represents a 5-point increase over the last six months. In fact, fully half of American travelers even say high travel prices have kept them from traveling in the past month alone. Airfare specifically being too expensive was cited by 30% of American travelers as what has put them off travel. In addition, Americans' personal financial situations continue to concern them and impact their travel—40% say their financial situation kept them from traveling as much as they would have liked. In terms of other factors dissuading Americans from travel right now, the stereotype about Americans' "always-on" work culture remains an inhibitor. One-in-five say they are too busy at work and 16% cite not having enough PTO. And as Americans headed into December's peak holiday season, fear of contracting COVID jumped more than 7-points over the month prior to 25%.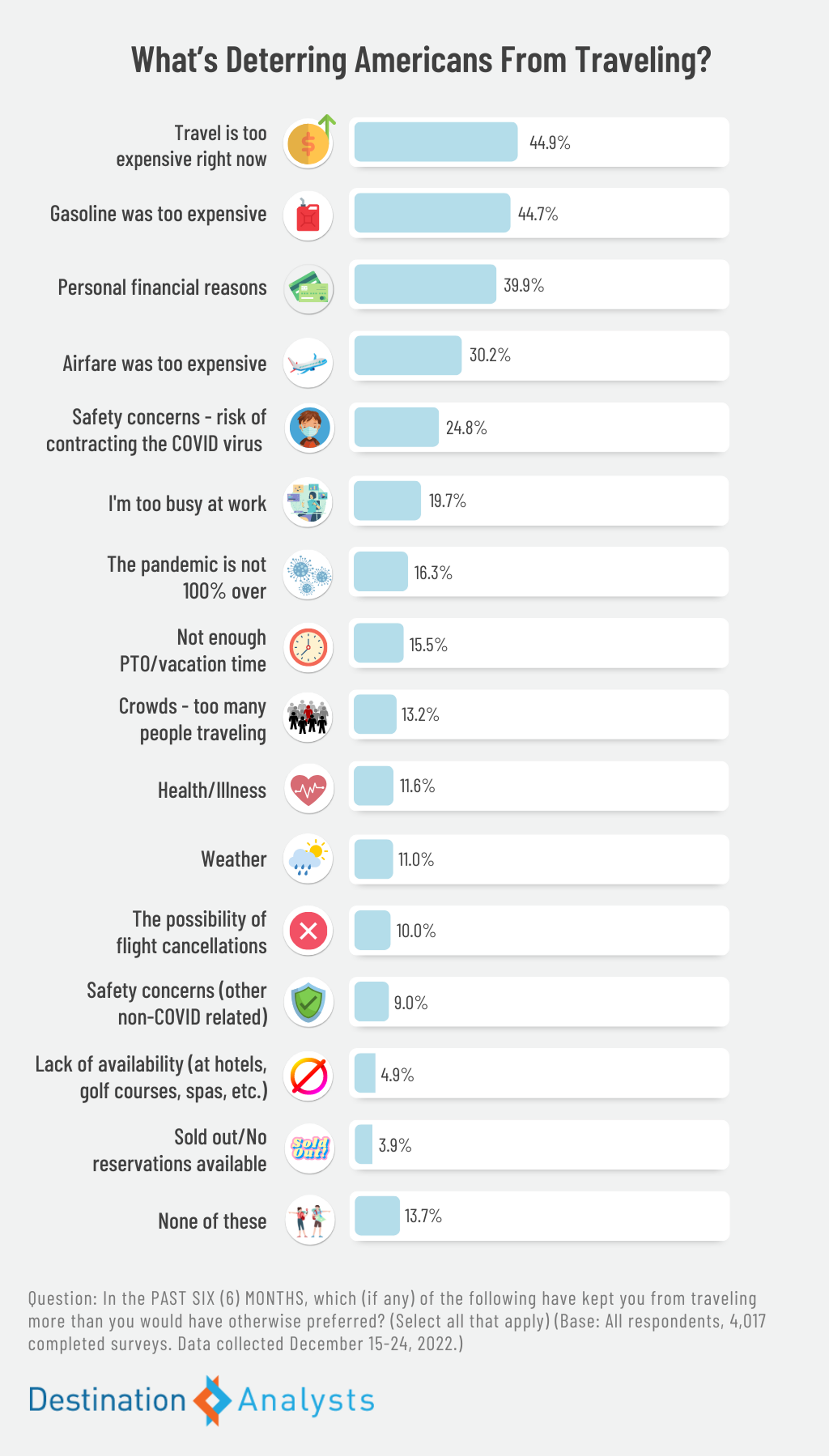 Over 62% of American travelers agree that they are currently being careful with their money because they are concerned about an upcoming recession. Of these recession-cautious American travelers, 77% say that their reduced spending habits also target travel. The number of Americans feeling like the present is a good time to spend on travel has reached a post-pandemic low 22%. And while 53% say that travel will remain a priority in their budget over the next three months, this is 5 points lower than at the same point in 2021.
But do Americans anticipate the recession to be short-lived? Nearly half of those surveyed still anticipate that their personal financial situation will improve in the next year. Expectations to travel and spend more in the new year are at the same levels they were at the onset of 2022—a year that saw records smashed for tourism. And Americans are starting the year with strong enthusiasm about travel. 80% report high degrees of excitement about travel this year—a level that is also the same as one year prior. In fact, 79% of American travelers already have trips planned in the next several months and anticipate spending $3,991 on their leisure travel during the year.


Predictions about Travel and What Will Impact It
There are healthy doses of optimism and pessimism in what American travelers predict for 2023. After perhaps experiencing revenge-travel fueled pandemonium in 2022, there appears some wariness of the travel industry among traveling consumers. Further price gouging (25%), labor shortages (24%) and an increasingly frustrating domestic travel experience overall (22%) are among the top scenarios we tested that Americans feel are likeliest to occur in 2023. Interestingly, 13% predict travelers will sour on the use of home rental services like Airbnb/VRBO—a sentiment felt strongest among younger travelers. Yet despite some of this negative outlook, 23% of American travelers say they will still take a dream trip to somewhere exciting in 2023. Gen Z and Millennial-aged travelers, as well as those who identify as Black/African American and/or Latino/Hispanic are the likeliest to say a dream trip will come to fruition this year. About 16% of American travelers feel that more authentic, less commercial travel experiences will grow in popularity (15.6%), and just over 14% say they will be more proactive about reducing the impact of their travels on the environment. Over 30% of American travelers say with a degree of certainty that 2023 is going to be a great year for them personally.


Air Aggravations
Although our survey fielded just before the full Southwest Airlines operational meltdown, air travel was already losing share as a transportation preference. When Americans were asked about their foremost travel transportation preference, those selecting road trips increased by 4 points from October to 44%, while preference for commercial airline travel dropped 3 points in that same timeframe to 29%. While the possibility of flight cancellations declined as a travel deterrent between August and December, we will look into any further or longer lasting effects of ongoing commercial air service issues, particular what transpired during this holiday season.

For the complete set of findings, including historic data and custom information on your destination or business, purchase a subscription to The State of the American Traveler study.
Learn more about the latest trends during our webinar.
To make sure you receive notifications of our latest findings, you can sign up here.
Have a travel-related question idea or topic you would like to suggest we study? Let us know!
We can help you with the insights your tourism strategy needs, from audience analysis to brand health to economic impact. Please check out our full set of market research and consulting services here.
https://www.destinationanalysts.com/wp-content/uploads/2023/01/rsz_shutterstock_2149266917.jpg
244
600
Destination Analysts
https://www.destinationanalysts.com/wp-content/uploads/2023/02/rsz_1da_logo_header.png
Destination Analysts
2023-01-05 20:44:34
2023-01-05 22:16:12
Welcome 2023! The State of the American Traveler in January—Americans' Top Travel Predictions for the New Year