Bratton Speaks at National Park Service on Marketing to Millennial Travelers
The Generation of Yes and America's Greatest Idea
America's National Parks are indeed our country's greatest idea, but they face a serious challenge in attracting a new generation of digitally-oriented visitors.  Attracting a more youthful audience is both a challenge and a great opportunity for the National Park Service.  When it comes to travel, the millennial generation (those born between roughly between 1980 and the mid 2000s) is called the "Generation of Yes" by our team due to their extraordinary interest in visiting all types of travel destinations and unbridled enthusiasm for living of life full of diverse travel experiences.  However they may pay lip-service to the importance of adding natural experiences to their travel resume. Many Millennials are still uncomfortable with the disconnection from their networks they associate with outdoor experiences.  They also hold a strong general preference for big city travel experiences over rural ones in nature. 
Our founder, David Bratton, spoke yesterday to a group of National Parks decision makers and stakeholders at an event held at the U.S. Department of Interior in Washington, DC.  Bratton encouraged the audience to aggressively market its assets in order to elevate awareness among younger Americans. He discussed the importance of positioning the park experience in line with the travel experiences most desired by the young generation (bucket list fulfillment, bragging rights, high energy excitement and self-improvement).
A livestream recording of the event can be seen here.
Nature is Important. Being Disconnected is Scary.
Millennial travelers show interest in the extraordinary array of travel experiences offered by the National Parks.  Data collected in Destination Analysts biannual The State of the American Traveler Study paint a picture of a generation that fully appreciates the great outdoors.  When asked if quiet, peaceful destinations are typically the "best vacation spots," the vast majority (80%) express agreement.   Similarly, more than 60 percent of Millennials agree that experiencing nature away from urban areas is an important part of their leisure travels.  Despite this positive overall sense, the generation shows marked discomfort with being disconnected, even on vacations.  Bratton shared a quote from a recent in-depth interview he conducted that captures the feeling of many in the generation.  Referring to Millennials, one participant said, "We may say we love the great outdoors, but being disconnected is a little scary."
The State of the American Traveler sheds further light on this phenomenon.  When asked if they were deprived of the ability to text and check email for one week while on vacation, fully 71 percent of Millennials say they would feel "Very uncomfortable."  By comparison, only one third of Baby Boomers felt similarly.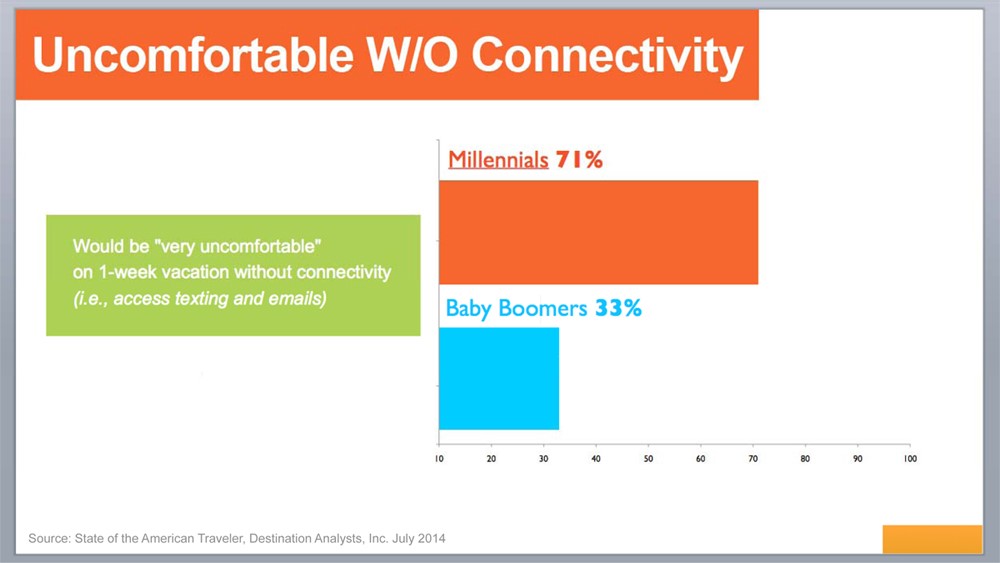 The Challenge:  Attracting Millennials in a Competitive World
Where the rubber really hits the road for the National Parks is with its competition.  Bratton showed that the generation's travel expectations are extremely high and the competitive set faced by destinations like parks is not only domestic, but worldwide.  These younger Americans already travel more than their older counterparts, they show much high propensities to travel by plane (less by car) and are about twice as likely to take an international leisure trip.  This is not good news for parks that historically have relied on the traditional road trip for many of its visitor arrivals.  Additionally, the Millennial generation shows a general preference for the excitement of urban destinations over rural destinations.  When asked in The State of the American Traveler Study if they generally prefer big city travel experiences to rural ones like National Parks, the majority agreed that they tend toward urban the experiences.   The chart below illustrates this finding and highlights the competition faced by our parks.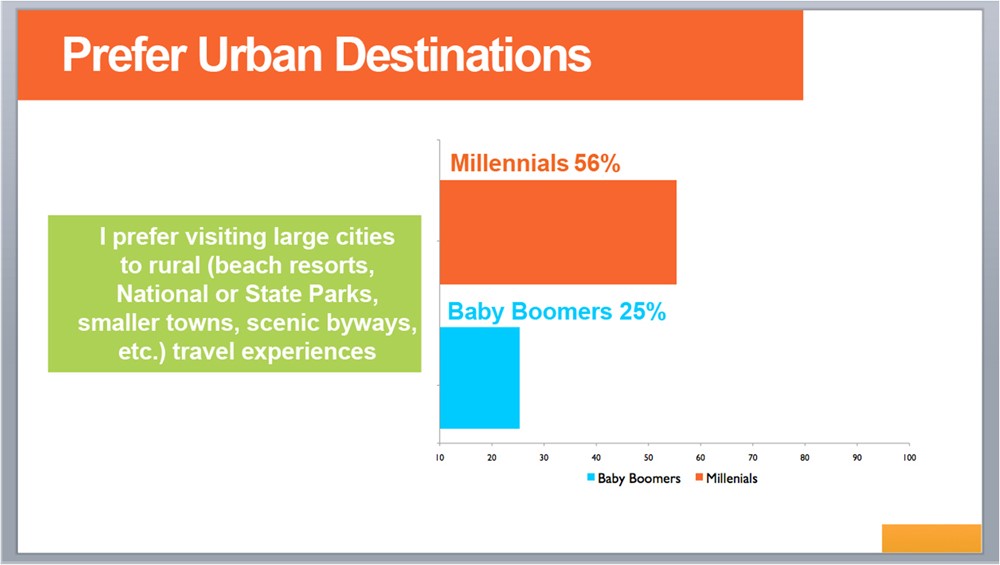 Keys for Marketing to Millennials
In this environment of extreme competition, how can the Park Service reach young travelers?  Bratton suggested the following three general guidelines:
Stress Value:  The Millennial generation has not yet reached the peak of its earnings potential.  It also has not fully reached the life stage where its members enjoy the buying power benefits of dual income status.  Highlighting the value proposition of visiting the National Parks is clearly a winning strategy.
Embrace Their Need for Connectivity:  Bratton argued that Millennials' strong desire to be connected to their networks is not only healthy, it is integral to their identities.   Purists who think that connectivity and the National Parks experience are somehow incompatible should rethink.  It is simply not something that can be ignored by those marketing travel to National Parks.  The community should emphasize experiences that generate bragging rights and allow these young travelers to envision exciting, active experiences with their friends and relatives. Bratton said, "While a baby boomer may dream of going off alone into the Sequoias like John Muir to commune with God, this imagery just isn't going to appeal to younger travelers."
Go Digital:  These digital natives require a highly-tailored digital approach that is both somewhat avant-garde and easy to consume.  Bratton said, "Young people of any generation can smell cool," and encouraged the audience to think about positioning the parks experience in a way the generation finds hip, comfortable and exciting.  Making online content easy to access and consumer-friendly is also critical for a generation "well known for its lack of patience for poorly designed digital interfaces."
Bratton's full PowerPoint presentation can be downloaded here.
Visit our friends at the National Parks Hospitality Association to learn more about efforts to market our National Parks.
https://www.destinationanalysts.com/wp-content/uploads/2014/10/Logo-For-Blog-Posts.jpg
168
145
Destination Analysts
https://www.destinationanalysts.com/wp-content/uploads/2023/02/rsz_1da_logo_header.png
Destination Analysts
2014-10-22 23:17:59
2014-10-29 18:34:23
Bratton Speaks at National Park Service on Marketing to Millennial Travelers