Search engine optimization for websites is now commonplace among companies, but image SEO isn't as widely practiced and holds potential for unique user engagement. Whether images of your destination are used by travelers for in-market planning or merely travel inspiration, ensuring that these images are optimized across search engines is vital to destination exposure and capturing interest of the traveler.
When I was young, my family and I would sit around the dinner table contemplating where our next family vacation spot would be if money weren't a factor. These conversations launched my sister's year-long campaign to plan a trip to Bora Bora. At least once a week, she would whip out her smartphone and scroll through photos of tropical, Bora Bora beaches on her Instagram feed, stream videos of Bora Bora snorkeling adventures, and search photos of Bora Bora sunsets on Google. It was relentless, but quite effective and did spark some interest from my parents thanks to the quantity and variety of photos my sister found online.
Fast forward to now, and my sister's travel planning methods are not far off from the average American leisure traveler, according to our The State of The American Traveler study. The study (a report on which is published every quarter—go here to subscribe), asks a representative sample of 2,000 American leisure travelers about their travel plans for the upcoming year. In the most recent survey, we asked travelers if they use their mobile phones to find inspiration and ideas for where to travel for leisure, and unsurprisingly, 61% of travelers reported using their mobile devices to, at the very least, find travel inspiration.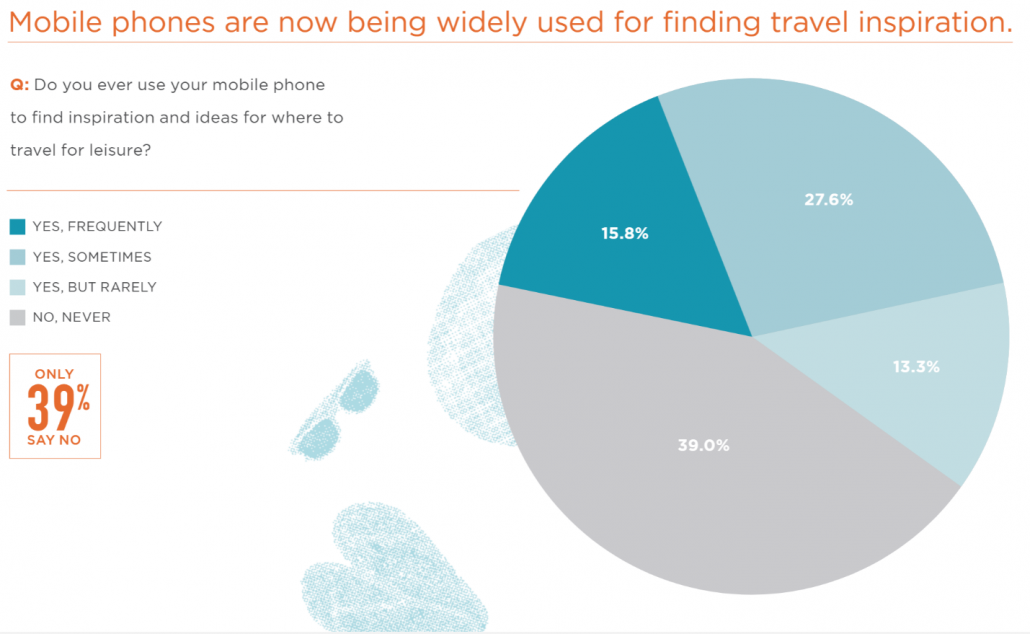 Mobile phones provide access to many types of information, such as DMO, hotel, and airfare booking websites. This information was clearly valued by travelers in our study, as the most common approach to find travel inspiration was a search engine for a general web search (69.8%). But the second largest percentage was a search engine for images or photos (39.4%). I found this interesting and it got me thinking: can image SEO help DMOs influence travelers beyond the reach of website SEO?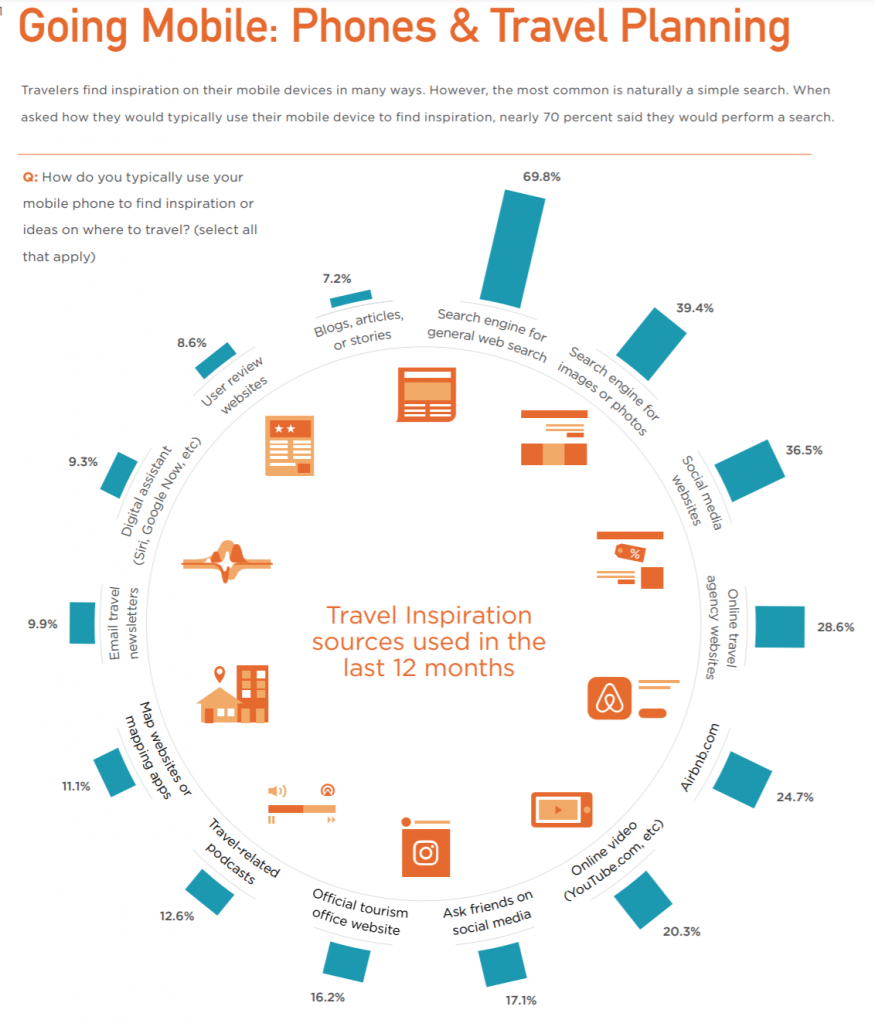 Image SEO is becoming more popular as companies realize the power of a photo. An article published in November 2018 by RedJavelin Communications gives tips on how to optimize image SEO. These tips include making the image certain dimensions so it is device-friendly and giving the image a thoughtful name so that it will appear in a search with relevant keywords. The article cites a study (see below for data) done by Jumpshot in September 2018, identifying the top SEOs used in the United States. Google Images emerged as a significant SEO (21.03%), supporting the data above from The State of The American Traveler.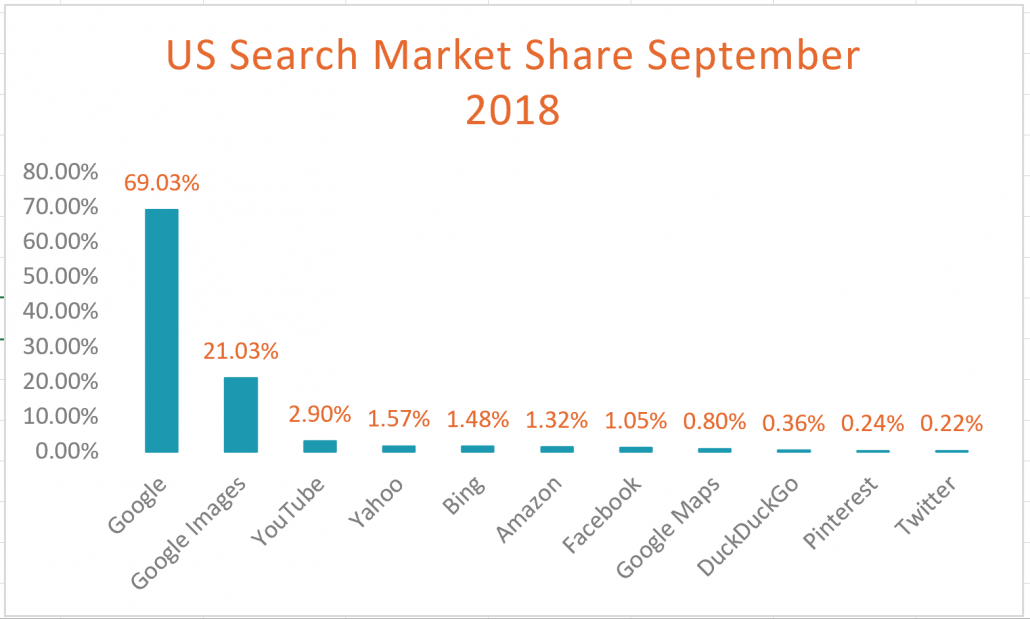 It isn't new news that when users see an image and text together, it is stored in memory for longer. Images not only broaden the type of user engagement but strengthen the chance that your destination will be remembered for the next potential vacation spot. And the exploration of the destination doesn't end once the traveler sees the photo: Google Images provides a "visit" button on the righthand side of the photo, creating a new channel into your website.
Additionally, as seen on the chart above, using social media intentionally to create more photo exposure is another SEO method to consider. Travelers can like, share, and send images they find on Facebook or Twitter, for example, of your destination with a simple click of a button. The likelihood that your images will appear on these platforms increases with the frequency that you post. And as professionals in marketing know, including a photo with the information you post increases the likelihood of user engagement.
Image SEO is clearly an emerging tool to consider when trying to reach more travelers. Ensuring that images of your destination are easily accessible on the web not only offers a new channel to your website, but these images can then circulate through social media and increase visibility. When I finally land on a beach in Bora Bora, it'll be image SEO that I thank.
https://www.destinationanalysts.com/wp-content/uploads/2018/12/destination-analysts-icon2.jpg
120
120
Destination Analysts
https://www.destinationanalysts.com/wp-content/uploads/2023/02/rsz_1da_logo_header.png
Destination Analysts
2019-07-16 17:18:56
2020-04-13 03:25:01
Let's Talk Image SEO